Euro Femdom Elite - Rea - The Office Clown, BRUTAL Footsmother, UNTIL PASS OUT - Foot Fetish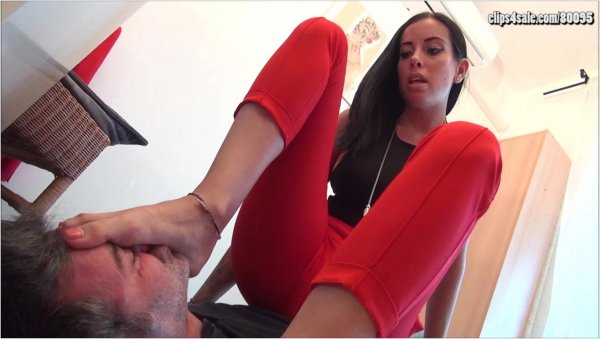 Rea is a young succesful businesswoman that together with her beautiful step-sister Roberta are running a succesful software business. They were in many magazines and TV Shows, the story of how two young models became rich and succesful is all around the world. Rea is a lifestyle Domina and a very strong personallity and her success is that she has everything under control. Everything? Just her loser office slave rufianno is so stupid that makes her crazy! His duty is to snitch his co-workers and take care of all her wishes while she is working at the office, but he cannot even complete some simple tasks, Rea really want to squeeze him under her feet!
Today Rea is very angry, because an earthquake in Japan she saw her stocks in the exchange market going down after weeks of increasing their value. She makes her strategy about it and she asks from her slave a glass of water, but while he brings it to her he spils water on the floor! Rea cannot take it anymore, she abuses him verbally and kicks him out of the office, firing him!
Rea was focused on her project when she realized that her loser slave-employee is still laying at her floor after she dominated him! She doesn't know what to do with him, if he is on her carpet he is harmless but annoying just to breath the same air with her, but if she gives him a duty, he will mess up! So Rea decided to smother him hard under her perfect big feet, blocking his oxygen and enjoying the breath control game, while she takes pleasure from the dangerous that she sees in the eyes of the loser! Rea footsmothers **** and full weight her slave and she humiliates him verbally, making him think if is better to leave this life, smothered under her sexy feet! Rea gives a real footsmother show on him and, when he passesout, Rea discovers his biggest talent, to offer his face as her footstool!
mp4
1280*720
542,12 MB
00:10:08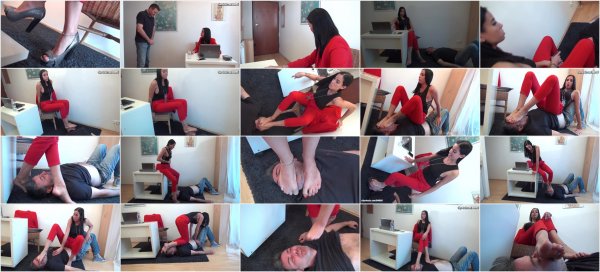 Download
Click on lock to get the link
Related news
Comments