Euro Femdom Elite - Valentina, Elizabeth - Happy Hour, Full Movie - Foot Femdom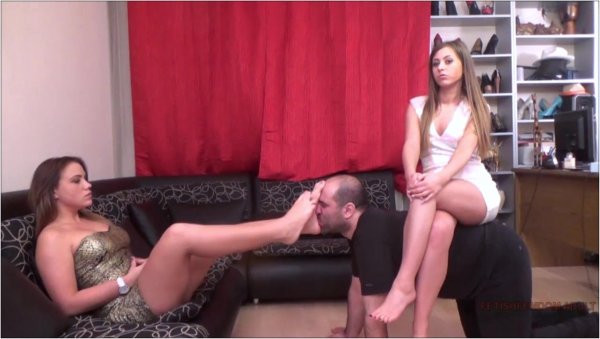 Amazing young beauties Elizabeth and Valentina are not only superbeautiful, but also highly intelligent and dominant and they already own a business dowing well. At the work place they are real leaders, managing many employees and having the absolute respect from everybody. But nobody knows how crazy and sadistic they are! They keep a secret apartment next to the company offices and they have their houseslaves there, dominating them hard and humiliating them for their fun, in what they call 'happy hour' of the day!
Foot Domination NON STOP!
Elizabeth calls her footslave and Valentina gets in her sadistic mood immediately. They make the worship their feet softly, massaging them on his face and making him lick and suck their soles and toes. But soon the two bratty Princesses start to dominate harder their slave under their feet, footslapping his face, footgagging him and footsmothering him, while they laught at him and humiliate him. They kick him on the floor and cover his face under their feet, making him lick and suck without a break while they his face!
INHUMAN Footsmother
The bratty Princesses call their slave to play some more. He is on fours and Valentina sits on his back, using him like a chair, while Elizabeth sticks her feet on his face and presses them hard, footsmothering him! They get in the mood immediately and they change positions, the one that sits on the slave's back pushes his head hard against the sole of the other, blocking his breath totally! The Mistresses kick their slaves on the floor and footsmother him there, one by one and both together. He is on his limit to passout so the two brats stand up, press both together their feet on his face for a goodbye smother and leave him with a purple face on the floor!
EXTREME Trampling, Facekicking And Facetrampling NON STOP
The brutal young Princesses are in a very sadistic mood, Elizabeth starts by trampling hard her slave, kicking and stomping his face hard while she stands on him and Valentina follows. They look so sexy in their short dresses, but the poor slave cannot even look at them, as one of them stands all the time on his face! If not, they kick and stomp his face countless times! Valentina and Elizabeth stand all the time both on the slave and destroy him under their feet, they trample his dick hard and they kick and stomp his body, squeeze this throat and, of course, trample his face and stand on it in all possible position! They are absolutely merciless and they enjoy every second of destroying a pathetic man under their feet!
VALENTINA - Lick The Dirt From My Sexy Short Boots
Valentina is back from the office at the secret apartment and calls her old pathetic slave to crawl at her feet. She wears a hot tight short dress and sexy short boots and she commands her slave to lick them clean. The slave begs his Mistress not to make him do it, as the bottoms of the boots are very dirty (REAL STREET DIRT!!!), but of course Valentina doesn't even care, she tells him to shut up and lick. The slave licks methodically the soles of his Mistress'es boots and the dirt slowly passes from the shoes to his tongue and mouth, that turns black. Valentina makes him worship and lick how she wants in a dominant style and she fucks his mouth with the heels. But the slave makes whining noises as he licks, so Valentina gets annoyed and she kicks him on the floor, going over him and using him as a rug to clean her boots properly. Of course she squeezes her useless slave's face under her boots, twisting the heel on his cheek, squeezing it under the soles like a cigarette and kicking his face under her sexy boots!
VALENTINA - Worship My Big Beautiful Feet, Slave!
Supersexy Valentina commands her slave to remove her short boots he just licked clean and commands him to worship her perfect feet. She makes him suck her long toes and she runs slowly and sensually her soles on his tongue, or massages them on his face. Valentina has the total control, she pushes the slave on the floor and she covers his face under her feet, making him worship them like there is no tomorrow!
mp4
1280*720
1,8 GB
00:48:52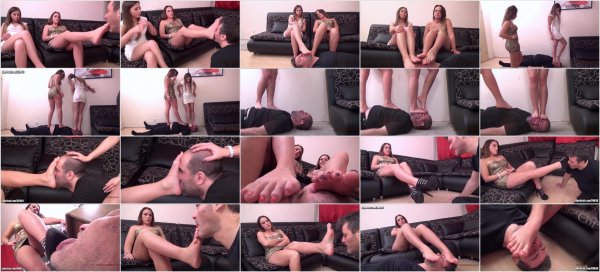 Download
Click on lock to get the link
Related news
Comments