Lady Shayne - Signature Moves - Warm-Up pt2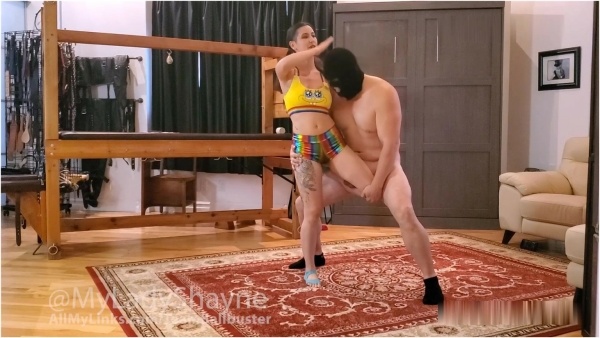 Lady Shayne really…. Properly…. fucks Muscleballs up….down….and in every direction imaginable…..
He starts the scene with naked… gagged balls…. Exposed…and super vulnerable to punishment…..He is definitely afraid….. (And all you losers out there know…. his balls are about to get fucked up and deformed…….taking a beating while they are gagged…you have to have balls of steel to handle that…)
Muscleballs is scared for his life….realizing that he must…..TRUST…Lady Shayne to not tear his balls off…. Or strike him too hard…. However…..he knows that trusting Lady Shayne is a really long stretch…..
Lady  Shayne  hand picked a couple of her favourite… new signature submission moves to use as stretching…and crushing warmup exercises for Muscleballs…..Lady Shayne goes on to remind herself to be " Considerate " ….of Muscleballs pain limits….given the extreme ball ripping nature of Lady Shayne's new signature submission moves….and the extra vulnerable gagged balls starting position….
She starts the action in a rare moment…. by getting down on one knee….and proposing to apply the inside elbow vice grip ….and oooh boy…..does she apply it…. But only after "Encouraging her loser"…. By slapping his rock hard dick…. So hard it bruised for a week….Giving him the motivation and power to accept the rock hard fact that his balls are very likely…..going to be torn from his body….
Muscleballs has to accept the hard fact …..that There is no way he can gets his balls back from Lady Shayne after his balls are trapped in the back of her knee….. only lady Shayne can return them……. Probably smushed and exploded into 1 large pancake… unfortunately…..
Lady Shayne has Muscleballs completelyintoxicated with her sexiness in this clip and she takes full advantage of it…… Muscleballs wanted to throw in the towel a long…long… time ago….
To finish the warm up….Lady Shayne now moves into a serious ball predator submitting position……for a finale of submissions…..first….She sits on Muscleballs face and neck in a reverse cowgirl direction…. Pinning his arms down with her legs in the process…..Lady Shayne intends on making his balls "Rupture"….(from the extreme pressure….)
Muscleballs pleads with Lady Shayne…….reminding her this is a warm up (For fuck sakes)…. As she is not listening to the safe word….causing unnecessary damage to his left nut via the elbow vice grip….. after this….
Then using both her feet…in a super sexy as fuck….surprise submission move…..
A lying down… face to face…double foot extension….. (This move is so hot… Muscleballs lost his mental function)…..it is only by a miracle his balls didn't get severed….Lady Shayne could have easily detached his balls in this signature submission move…
In closing statements by Lady Shayne….she executes a signature butt drop directly onto his gagged balls……and then slowly….slides her sexy ass and tailbone down to the floor pinning his balls…. between the floor and her tail bone…crushing whatever is left of his balls…
Muscleballs is absolutely destroyed after this warm up..…and will never be the same again…. Well…Definitely not the shape of his balls…
Lady Shayne is really getting into her signature groove in this clip!  It's a must watch! Mind Blowing Ball Busting
mp4 | 1920*1080 | 1,19 GB | 00:20:55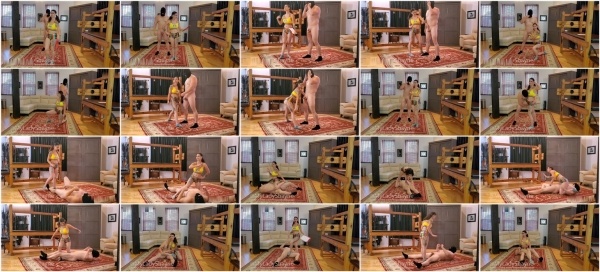 Download
+10% DAYS OF MEMBERSHIP KEEP2SHARE.CC
Click on lock to get the link and watch online
Related news
Comments