Goddess Rea - REA - Japanese Contract - FOOT DOMINATION FULL MOVIE5 Clips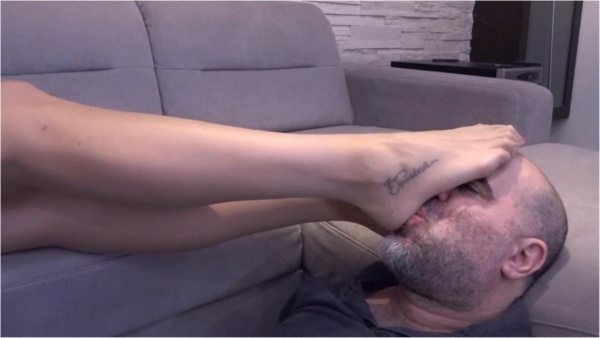 Today is a big day for my company, I am signing a big contract with a Japanese brand and everything must go perfectly! I am totally ready, looking sexy in my dress, pantyhose and high heels, I know I will make them submit to me. But what I am worrying about a little is my loser assistant, my no2. He is of course my loyal slave, trained for years to be how I want them as slave and assistant. I have just a little stress and I know that he has a lot. And the best method to fix it, is dominating him hard under my feet! I know that after some time suffering under my big feet, he will be ready. This is the usual ritual before every important meeting!
Under My Elegant Stilettos - Shoe Worship And Domination
What boosts my confidence and power is to see my assistant slave crawl at my shoes, worship them, while I dominate him and hurt him under them. I wear a pair of my favorite office stilettos that look so sexy in pantyhose and I make my slave shine them with his tongue before the meeting. I totally get focused in the moment and I enjoy to make my assistant to my pahtetic shoebitch!
Office Bitch Under My Feet - Footsmother And Domination In Pantyhose
My slave-assistant licked my high heels clean, but I want to keep him under my feet some more, this is what is his main task. I massage my feet hard on his face and when he moans from my nylons scratching his face, I footsmother him hard. I humiliate him verbally while I dominate him with my feet on his face, kicking it and blocking his breath. I feel better and confident that the job is ours!
MERCILESS Trampling, Throatstanding And Facestanding In Pantyhose
My slave knows what I always want when I need my stress out. He lays on the floor and I use him as a carpet, trampling him hard in my sexy pantyhose. I kick his face and body, destroy his dick trampling it and I melt his face and throat, standing on them and pressing them hard under my full weight! The harder I trample him, the more I relax!
Always Remember Your Place - EXTREME Foot Domination And Facebusting POV
The meeting was better than expected and we signed the contracts with the Japanese. My slave is at my feet and I tell him that he did good. Now his position in my company is higher, his responsibilities more. But he must never forget that he is my pathetic slave! I stand over his face and I dominate him hard under my feet, making him feel my sexy nylons while I humiliate him verbally. I kick and stomp his face and I press it hard against the floor, destroying his face. He must stay humble! I command him to worship my feet and he does it in passion, while he tells me that he lives for me and he will do anything for his Goddess. I am happy with the answer, so after I dominate him some more underfoot, I command him to drive me home.
mp4 | 1280*720 | 1,23 GB | 00:58:43
Download
+10% DAYS OF MEMBERSHIP KEEP2SHARE.CC
Click on lock to get the link and watch online
Related news
Comments