Mistress Amethyst - Kiss Tease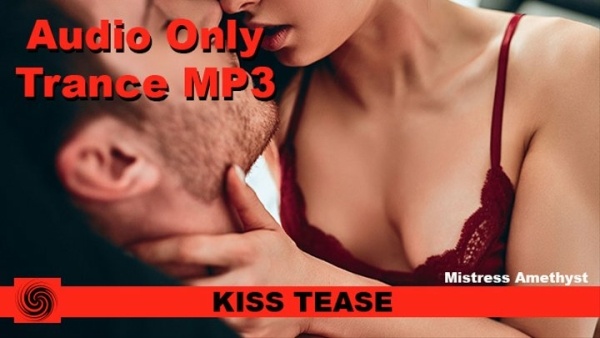 You know I'm watching you, and it's kind of exciting to be watched to be watched by your Mistress. Mmmm yes!
I will come closer to you, guide you deep, deep, down into trance, and climb up on top of your body. Oh how you love having me so very close to you.
I lean in close to your lips, where you can feel my breath on your tongue. You're my sex slave. You will lie there, motionless, as I tease your body, and make you crave my kiss.
But it's more than a craving. It's the most intense desire. I'm so close, and if I allowed your face to move even a little bit, our lips would be pressing together. Maybe I'll give you one little kiss.
Nope!
Rest for me slave!
Deep, deep down
Over and over
Perpetually teased.
Themes: Layered Whispers, Relaxation, Mindlessness, Kiss,, Tease & Denial
Secondary ASMR/Whisper Track: Yes
Sound Effects: No
Cum Command: No
Brainwaves: No
Gender Specific: No, but there are references to stroking your cock
Triggers Used: Deep, Down, Rest
Finger Snaps: Yes
Mistress Amethyst Worship Commands: Yes
Financial Domination: No
Amnesia Suggestions: No
Music: NewAmbient43
File Name : 11___Mistress Amethyst - Kiss Tease
Format: MPEG Audio
File Size : 44.9 MB
Duration: 00:32:21
Audio: MPEG Audio, 2 channels, 192 kb/s
Download
+10% DAYS OF MEMBERSHIP KEEP2SHARE.CC
Click on lock to get the link and watch online
Related news
Comments