Miss Cheyenne - Devilish 666 Cane Strokes Part 1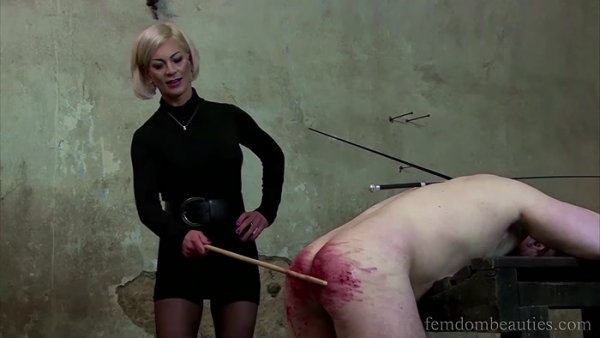 Black dressed like the devil in a sexy black mini dress, black stockings and adorable black mid-calf boots beautiful Miss Cheyenne is approaching in the dungeon to her naked torture slave. The slave promises Miss Cheyenne that he will endure as much pain as she wishes. Miss Cheyenne who is famous for her severity is noticing this with a mean smile. Does the slave know what he is getting himself into? With the cane cruel Miss Cheyenne will bring his torture slave to his limits. Miss Cheyenne is hitting him severely while the slave bent forward a caning rack is countig the strokes. Miss Cheyenne is paying each buttock her mercifull attention. After 100 strokes the slave thanks her politely. Certainly Miss Cheyenne is not yet satisfied and is letting her cane dance any longer over his already red welted ass. As the slave skin starts to burst Miss Cheyenne laughs amused. Contemptuously she is spitting her torture slave in his slave mug and from time to time the slave receives hardest salvos of slaps into his face. In the first part of this crass caning clip the slave has to suffer 333 devil cane strokes.
Schwarz gekleidet wie der Teufel in einem sexy schwarzen Minikleid, schwarzen Strümpfen und anbetungwürdigen scharzen halbhohen Stiefeln tritt d ie wunderschöne Miss Cheyenne im Folterkeller an ihren nackten Foltersklaven heran. Der Sklave verspricht Miss Cheyenne soviel ertragen zu wollen, wie seine Herrin es wünscht. D ie für ihre extreme Härte bekannte Miss Cheyenne nimmt gemein lächelnd zur Kenntnis. Ob der Sklave weiß worauf er sich eingelassen hat? Mit dem Rohrstock wird d ie grausame Miss Cheyenne ihren Foltersklaven an seine Grenzen bringen. Miss Cheyenne schlägt hart zu während der Sklave über einen Bock gebeugt d ie Hiebe zählt. Jeder Arschhälfte widmet Miss Cheyenne ihre gnädige Aufmerksamkeit. Nach 100 Hieben bedankt sich der Sklave artig, doch natürlich ist Miss Cheyenne noch nicht zufrieden und lässt ihren Rohrstock weiter über seinen schon rot gestriemten Arsch tanzen. Als d ie Sklavenhaut beginnt aufzuplatzen, lacht d ie sadistische Miss Cheyenne amüsiert. Verächtlich spuckt sie ihren Foltersklaven in seine Sklavenfresse und zwischendurch erhält der Sklave zur Abwechslung noch Salven härtester Ohrfeigen. Im ersten Teil dieses krassen Caning-Clips darf der Sklave 333 teuflische Rohrstockhiebe ertragen.
Keywords: Female Domination, Free, Femdom, Miss Cheyenne, Cheyenne, Mistress, Caning, Hard, Brutal, Cane, Cane, Canning
File Name : 3333___Miss_Cheyenne_-_Devilish_666_Cane_Strokes_-_Part_1
Format: MPEG-4
File Size : 736 MB
Duration: 00:15:01
Video: AVC, 1440 x 810, 60.000 FPS, 6665 kb/s
Audio: AAC LC, 2 channels, 192 kb/s
Download
Click on lock to get the link
Related news
Comments