Tessa Fantasies - Goddess Tia - Tia Executes The Twin Step Brother Of Her Previous Victim Even More Mean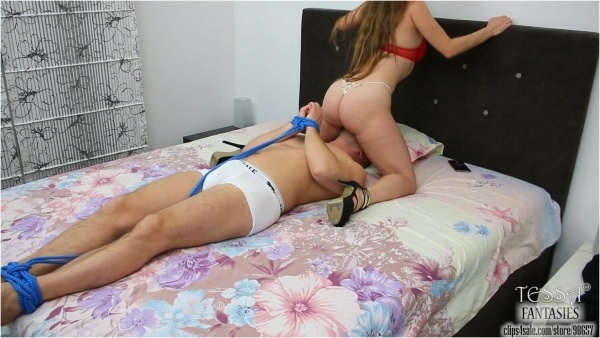 Last year 2018, Goddess Tia klled the wrong prisoner, and this year 2019 u had a part time job to become the world sexy ..This slave is the twins brothers with previously prisoner that u already klled..Its the year 2019 & Goddess Tia is the #1 Executrix in the world. Clients all over the world seek her services & pay top dollar to loose it ALL between her strong thighs reverse headscissors..This slave has just signed over his life insurance to the world famous Goddess Tia but the only way she can collect the money is by taking his life away.. Please make up  Tia so that she look so gorgeous-- in other words bright red lipstick, lots of eye make up and face make up -- and please dont tied Tia hair..Goddess Tia talk so seductively and sad to the slave..because u will him soon..please put the pillow under the slave head when the slave lie down on the bed for ..So this is the story line and the scriptThe slave arrive to your apartment then he knock the door..(u wear sexy outfit and short skirt and high heel) then u open the door and welcome him in then he give u the briefcase..(inside the briefcase got money 100 thousand Dollars) when he come in he look very nervous..   then u tell him  "so i can take this 100 thousand Dollars after i take your life right? Then the slave say "yes goddess..  "u need to take my life first then u can take all the money" then u tell him  "you look so nervous..dont worry .. "you make a good choice  "i will make u enjoy on ur last day and u will never forget..Then u ask him to follow u to the office to sign one last page on his life insurance..before he sign, u need to interview him.." why you want to surrender your life away.. the slave tell u that " (he talk so nervous) "I have a financial issue,bankrupt,just break up with my girlfriend, fight with my step-mother and hate with my family,  perfectly no more and i really miss my twin step-brother( Goddess Tia look sad)..Then u ask him where is your twin step-brother?Then the slave tell you that my twin step-brother in the prison..but he is not guilty.." and 1 year already i never seen him in the prison.."and i heard that my twin already dd.." thats why i want to d..(slave look sad)then u shocked (then u remind back that u already klled the prisoner)so that wrong prisoner that i klled was his twin.. (can i request u rewind back my previous custom video that u klled the wrong prisoner) (the neck break part)once the interview done (Goddess Tia look very sad)" dont worry.. "soon u will see your late step-brother in the heaven.. (Goddess Tia sad smile) and u ask him to sign the life insurance.. after he signed, u check the life insurance again and make sure he sign the last page.  "ok.. "u already signed..  "now its my turn to sign for witness "so no turning back for u dear..then u change ur sexiest outfit infront the slave ( sexy bra and micro side gstring and high heel)   "do i look sexy?    "Do U like me   "then u tell him   "i will show u this is how u d..  " i will crush ur head like this watermelon.. "i need to warm up my thigh muscle" ..(u crush reverse  1 watermelon between ur thighs  infront the slave)..u ask the slave put the watermelon between ur thighs then u squezzed tightly the watermelon until pop and continue to crush the watermelon until break into 2 pieces.. (the slave look scared) (Goddess Tia sad smile) once u crush the watermelon, u ask the slave to eat the watermelon.. then u say "so poor watermelon (Goddess Tia sad look).. once the slave eat the watermelon ..You say "alright.. "dont waste my time.." right now is ur turn.. follow me to  the room and bring along the briefcase..once u reach at the room, u ask him to change his outfit..he only can wear the short boxer only..once he change, u ask him to lie down on the bed..once he lie down on the bed, "say ur prayers dear..while the slave say the prayers u slowly tied up his both wrist and both legs..so he cannot escape when the is process..once u finish tied up his both wrist and both legs..the slave want to cancel..he dont want to d  because he very scared and suddenly missed his step-mother and he want to spend time with his family.. then u tell him.. "so pity and im so sorry u already sign the life insurance.. "and dont worry i will make u never forget on ur last day "and i promise u will see ur step-mother once this complete.. (u sad smile to the camera because u lie to him) "so dont worry .. then u put pillow under the slave head..then u ask the slave "relax.."nothing to be nervous dear.."where is ur phone? The slave say "its in my pants pocket goddess..then u say "hold on abit i go take ur phone.. then u take the phone and u ask him to call his step-mother for the last time..then u dial the number and u put the handphone at the slave ear.. "say ur last words to ur step-mother.. "hurry up!! "Theres no time.. then the slave cry and talk to his step-mother hi step-mom!! I want to say that i love u so much step-mom and i will miss u and please forgive all my sin..then u hang up the phone.."thats enough!! Dont cry!! Opss!!  just relax ok? ..the slave say "ok goddess(he look scared).. "please take all my money but please dont me goddess..then u slap on his face and ssshhh to the slave..stop begging and u put scoth tape on the slave mouth.. then u ask him to see her thigh.. then u put ur thigh on top of the slave head while u teases ur legs and thighs.." this thigh will take ur life away.."before i take ur life away, " your sin will be forgiven by me .. "so dont worry.. "you will d peacefully "beg me to take ur life away..then u the slave by (1st long grind facesit until u orgasm ), (2nd front and reverse figure 4), (3rd breast smothering),  (Lastly leg split on his head), and while u the slave by reverse figure 4 ..the slave handphone start ringing and u just ignored the handphone because u had fun  the slave..then the handphone ringing again and u very mad and u stop by leg split  the slave head .. when u stop the the slave had struggle to breath .. (u look so angry)  then u say "oh my god!! "Ur step-mother non stop calling u.."i think ur step-mother is worry about u.." seriously ur step-mother make me angry!!! "by right i cannot stop while the is process!! "Seriously u make me break the rules!! "Now i teach u the lesson!! "Soon i will u same example to my previous victim!!!  Then u answer the slave handphone.."hey bitch!! "Dont call this handphone again!! "U will never ever see ur step-son again!!! Haizz!!! then u hang up the phone.. while u want to  continue the, u saw the slave was crying..aww!!so poor baby. Please dont cry ok? then u sad smile at the slave..and u dont want to waste time then lastly u change to ur murderous reverse headscissor.. "please dont waste my time!! "i want to go home already!! "Please forgive me first before i u, "i am the one who klled your twin step-brother.." im so sorry.. "right now how u feel like ur late twin step-brother feel"so this is my kller squeeze..feel my powerful headscissors!! .."this is how your late twin step-brother dd"lift up ur head near to my ass and pussy..then u squeezed tightly the slave head between ur thigh near to ur ass while u look him suffer until his head turn to red and red until he knockout cold..then u release his head slowly between ur thigh and u check his pulse on his neck but he still alive and struggle to breath (Gasping) and the slave (body spasm) (Goddess Tia look sad)..then u put pillow under his head again and u look sad on the slave  "so poor baby"i know this is very painful"just relax ok dear.. "beg me to take ur life now".."lift up ur head near to my ass and pussy for the last time".. then u long reverse headscissors again, u squeezed tightly the slave head between ur thigh while u look sad at him until his head turn to red and red again.. "now i can feel ur neck turn to soft.."its time to break ur neck!!! (Goddess Tia sad look)then u brutal jerk ur thigh and brutal snap the slave neck then break his neck between ur thighs ( can i request the neck break sound effect) then the slave dd with his eyes open and the tongue come out..U look very sad on the slave while squeezed his head and u say "Aww... "Oh my god" the neck break so loud" this is exactly same how ur late twin step-brother dd.." now u already feel same exactly how ur late twin step-brother dd.. then u release slowly his head between ur thighs on the pillow.. "oh god!! hes dd with eyes open again and the tongue cime out"so poor baby" i know this is very painful.. "do you see your step-brother in the heaven"i hope you together with ur twin step-brother in the heaven..(sad look).. then u use ur finger to close his eyes and u ignore the tongue..then u look very sad at the slave..then u put ur thigh on top of the slave head while u teases ur legs and thighs while u say "may u rest in peace "may god have mercy on your soul".."im so sorry that i break my promise that u will see ur step-mother again "but thats was not true.."please forgive me that i lied to you "i should stop say lied to the slave.. (sad look) "and i will buried the body in the secret place".. "theres no one can find ur dd body except me".."poor slave" "your step-mother only know u disappear forever in mystery".."but i am the only one who knows everything that u are dd between my murderous thighs".."im so sorry theres no witness" then u look sad on the slave while massage the slave neck.."may u rest in peace and thank you for the money"..and u saw 1 watermelon and u crush the watermelon between ur thighs..once the watermelon crush.. "poor watermelon.."good bye to my little slave..then the slave handphone ringing again.." ohh!! Your step-mother call again.."im sorry.."u will never know what happen to ur both step-son.."im already take both of your step-son life.. u just ignored the handphone and u sadistically smilling to dd slave and the poor watermelon ..(then u call someone) "its done!! Please buried this body at the secret place together with my previous victim.. and then you reverse headscissor again squeeze his neck between ur thigh again and u brutal jerk ur thigh and break the neck again.. (neck break sound effect)"oh god the neck break loud again (Goddess Tia sad look)the slave eyes close but the tongue still come out then u release his head on the pillow then you take photo on the dd body by using ur handphone and u close the body with the blanket..then you take the briefcase and flying kiss to dd slave "thanks for the sweet memory baby.. and walk away from the scene.The endI hope u can make it for this custom video..Thank you  
CUSTOMERS FEEDBACK: 
Hi Arthur and Tia.. the custom video is awesome..Wow!!! Tia look very gorgeous and sexy.. seriously i love Tia Thighs..her thighs is very strong.. i like the way that she crush the fruits..overall is perfect..Thank you Arthur and Tia.. both of u are the best..    
Another format you can find in our store! Just copy clip title in search box.
You will also like our another movies in SCISSORHOLD and EXECUTRIX
The Ultimatum: His Last Choice. Scissorhold. Executrix 
You Have Never Seen Such Sexual Hitman! Executrix. Scissorhold  
Besides, you can order a clip by your own scenario! Just contact us!
You can find our e-mail in the left side of the screen or in the top of our store.
mp4 | 1920*1080 | 1,42 GB | 00:38:22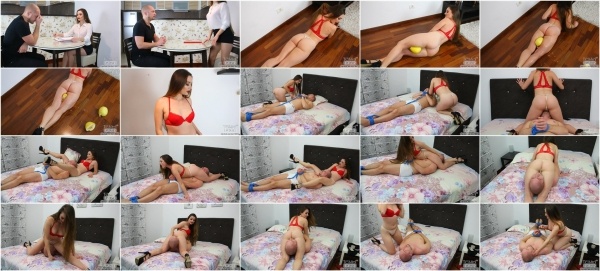 Download
+10% DAYS OF MEMBERSHIP KEEP2SHARE.CC
Click on lock to get the link and watch online
Comments