Magyar Mistress Mira - Bullminator From The Future - Epic Cuckold Training And 2 Loads Of Cum Eating Humiliation!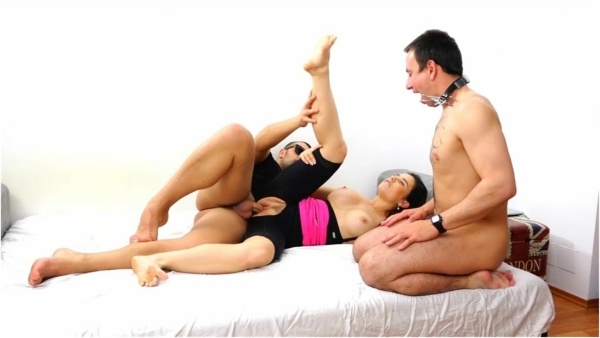 In the near future most of the women live in cuckold marriage. They have a rich ,sensual,reliable and humble beta male husband and also some alpha male lover. Beta males have to wear chastity belt 24/7 and they serve their wifes without any question.There are also the Bullminators ,the perfect cuckold trainers. Bullminators are clones and they are made to train beta males to be perfect cuckold husband! My step-son sent me a real Bullminator back from the future and his mission to make my loser husband my humble cuckold slave! My husband doesn't want to accept his new role but he has no chance against the Bullminator!
MERCILESS FOOTBITCH TRAINING
The Bullminator violently grabs my husband and throws him to the floor. He Encourages him to lick my shoes clean and suck my feet like a good bitch while he gives my husband some hard wallops as well!
KISS YOUR WIFE'S COCK FLAVORED MOUTH! : SUCK AND KISS HUMILIATION!
The Bullminator violently grabs my husband and throws him to the floor. He alternately fucks my mouth and Encourages my loser husband to kiss my cock flavored mouth as passionate as possible!
I'LL TEACH YOU YOUR PLACE! : MERCILESS TRAMPLING & FUCK HUMILIATION!
The Bullminator violently grabs my husband and throws him to the floor. He makes me step on him with my full weight and fucks me hard while I trample my husband all over his body and face . "Sorry Honey but your new place is under my feet!"
MAKE THE BED,PUT ON THE CHASTITY AND SUFFER!
The Bullminator command my husband to make the bed for us while we kiss and do some heavy petting . The Bullminator also brought my hubby a steel chastity and Encourages him to put on it . My bull fucks me doggy style while I suck my hubby's locked cock and enjoy his painful moans!
WE TEACH YOU HOW A LOSER FUCKS HIS WIFE!
My husband 's useless tiny cock is still locked in the chastity. The Bullminator teaches him how a real loser fucks without his own cock. He brought my husband a big black thick strapon and now Encourages him to put on it and fuck my juicy pussy! My miserable husband fucks me with the huge strapon while the chastity hurts him really badly!
BULLMINATORS CUM LIKE A HORSE! : EXTREME FOOTBITCH TRAINING AND CREAMPIE EATING HUMILIATION!
My husband 's useless tiny cock is still locked in the chastity and we also put a dental gag in his mouth . The dental gag keeps his mouth wide open for my pleasure. My Bullminator command my husband to suck my feet as deep as possible while he fucks me so bad and give me multiple orgasms. Finally the Bullminator empties his balls inside me. I get totally shocked when I feel his sperm in my pussy because Bullminators cum like a horse!!! I sit in my husband's face and Encouraged him to swallow this massive creampie till the last drop!
BETWEEN 2 ROUND : GIVE YOUR WIFE A GREAT FOOT MASSAGE BEFORE I FUCK HER AGAIN!
The bullminator is a really perfect lover but I need some relax between rounds. Before Round 2 the Bullminator command my husband to bring me a drink and give me a great footmassage. My pathetic husband kneels in front of us and rubs my feet while we humiliate him verbally and give him many hard wallops as well!
COME ON LOSER ,USE YOUR TONGUE WHILE I GET FUCKED IN MY ASS !
Cuckolds are genetic garbage and they are the most useless creature of nature. They have only one valuable body part ,their tongues ! Now I ride the Bullminator with my ass while I command my husband to alternately lick my pussy and my nipples !
SOLUTION FOR BIG MISTAKES : I WANNA RUB OUT YOUR COCK AND BALLS!
I tell the Bullminator I really hate my husband's useless cock and he has a great solution for this problem. He brought me a very special rubber from the future and he tells me I can rub out this loser's pathetic cock and balls! I think he just jokes with me but I want to give it a try! I rub my husband's cock and balls as hard as pssible while he screams in pain like a suckling pig.
MASSIVE FACIAL AND CUM EATING CUCKOLD HUMILIATION!!
I really love the Bullminator's perfect thick cock. He has sustained erection for hours and hours and he cum like a horse! Now I give him a great passionate blowjob in front of my loser husband's eyes. Finally the Bullminator gives me a super huge facial!!! I Encouraged my husband to lick the cum off my face and swallow it till the last drop!
mp4 | 960*540 | 1,77 GB | 01:34:04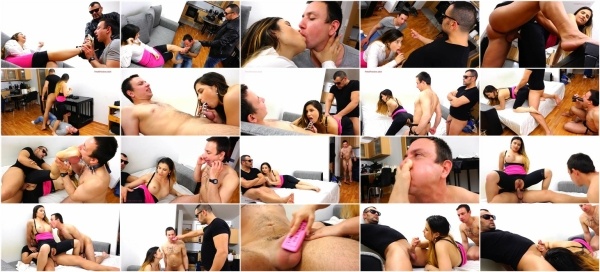 Download
+10% DAYS OF MEMBERSHIP KEEP2SHARE.CC
Click on lock to get the link and watch online
Related news
Comments