Dominatrix An Li, Nicolette Rule, Quinn Helix - Bitch Beatdown
Scared bitches will always be scared bitches. And how could you not be scared with Goddess Nicolette Rule, Mistress Quinn Helix, and me bullying you around? A frightened fat pig like you can't fight back. You can't do anything!
So when we slap you, punch you, beat you up, you might cry, but all we're going to do is laugh. You're pathetic! How could we not laugh at your tears? It's hilarious to watch you try to cower in fear, but with your hands strung up, all you can do is flail helplessly around while we push you around.
We're going to take turns beating you up. Punching your stomach, slapping your face, smacking your legs. Your fat porky little body is going to be bright pink when we're done with you. I'm going to personally hold you by your chastised cock to make sure that you don't wriggle away too far. And don't worry, Quinn will be sure to throw in some good kicks to your stomach. Wouldn't want you leaving here without your whole body feeling totally sore and defeated, would we?
Come on, little piggy, you can take it. You will take it. Even if you whimper like the little bitch you are, you're going to get beat down until you remember that you're absolutely nothing to us.
File Name : 11___AnLi - AnLi,NicoletteRule&QuinnHelix BitchBeatdown
Format: MPEG-4
File Size : 799 MB
Duration: 00:13:44
Video: AVC, 1920 x 1080, 23.976 FPS, 7997 kb/s
Audio: AAC LC, 2 channels, 125 kb/s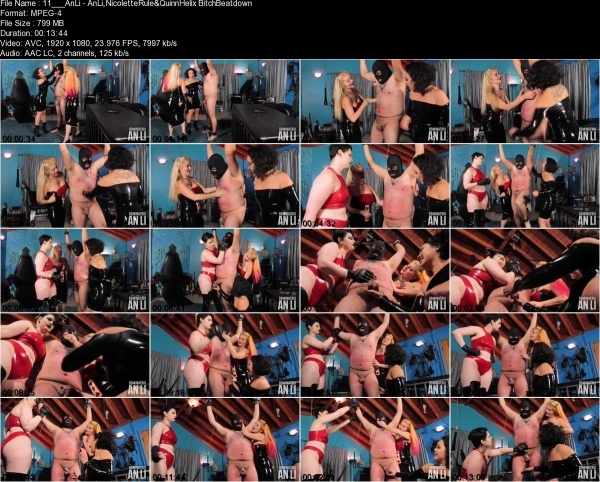 Download
Click on lock to get the link
Related news
Comments