Dominatrix An Li - Mistress An Li, Elise Graves - Scavenger's Gimp
Elise Graves and I have a surprise for our slave gimpy today. We're taking it medieval style, because of course, all the best devices come from then. ;)
We have a scavenger's step-daughter – a metal triangular bondage device with shackles for the neck, wrists, and ankles. Intended to keep the victim in a shamed and subservient position, this particular device is extra effective to torment our slave with, exposing all his vulnerable bits and making him the laughing stock of us all.
Our slave is hooded, mitted, and cuffed, then locked into the bondage device. We attach magnetic clamps to his nipples, tie his balls down, and begin our humiliating experiments. It's sheer sensory overload. He's whipped, electrified, to crawl on his ass, shocked in the balls, and breath-deprived...over and over and over again. His entire body under attack, he begins hyperventilating, much to my visual delight. His panicked breaths inflate and deflate the leather hood over his head, making us want to torment him some more and more...
This is a serious double domination, sensorial overload for him that he's in way over his head, and it's just how we like it.
mp4 | 1920*1080 | 1,18 GB | 00:20:47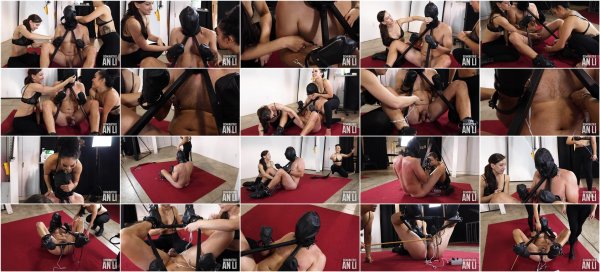 Download
Click on lock to get the link
Related news
Comments