Sweet Femdom - Cammy, Rene Phoenix - Your Manhood is for Sale - Pegging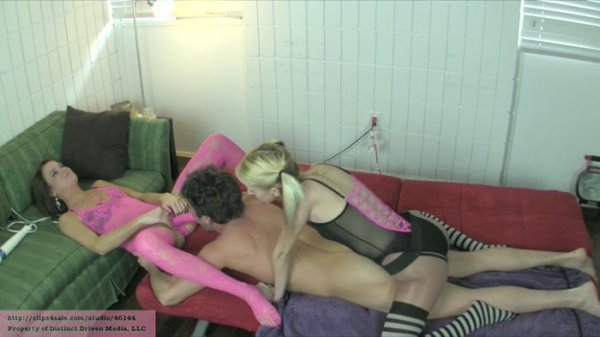 Cammy and Rene Phoenix are hanging out when Rene gets a great idea. She had heard that people will buy male testicles on the black market…
First they have to find some balls, so they go on craigslist encounters and find a guy that wants a threesome. They invite him over, planning to seduce him, break his spirit some ballbusting and strap-on fucking, then cut off his balls. That way they can sell his balls on the black market, then with his spirits completely broken and his balls removed, they can sell his ass as a sissy whore ?
When Lance shows up for the threesome, he's easily convinced to put up with a little ballbusting. They tell him that if he goes along with "their fetish" they can have some fun after. They get him to strip in front of them, and as they are counting their kicks to his balls they encourage him with sweet talk, "Awe, I'm so sorry… are you okay… [KICK] and they tease him with their bodies to keep him going.
When Rene stomps and grinds her pantyhose foot into his balls, while Cammy puts her sweaty foot in his face and makes him smell her toes they feel pretty confident that he's breaking. So Cammy holds his legs apart while Rene stands over him and kicks his balls in just to be sure.
Cammy and Rene sit Lance down on the couch and tell him that now that they have busted his balls, it's time to fuck. He's really excited until Rene shows him her big purple strap-on…
He doesn't want to take it in the ass, but Cammy tells him in a sweet way, while she has his balls in her hand that she's going to rip them off if he doesn't do what they want.
Rene goes to town on his ass while Cammy teases him with her pussy. He has to sniff and smell her pussy, knowing he can't have it while Rene humiliates him from behind. Cammy even pulls out a big pink dick and makes him suck it while he gets fucked.
They let him know that they are going to fuck him this way until he likes it, so he better just submit. If he doesn't submit, they are going to cut his balls off
To make sure that they are breaking his will, and turning him into what they want, Rene jerks his cock with lube while she rails his ass. He can't help but love it. Right before he's about to cum, Rene tells him that she going to cut off his balls and this will be his last orgasm ever. From now on he'll only be taking it in the ass… They have completely turned him into their bitch now ?
Keywords: Female Domination, Free, Femdom, Sweet Femdom, Dual Domination, Cammy, Rene Phoenix, Handjob, Double Domination, Ball Abuse, Ballbusting, Balls Busting, Cumshot, Milking, Emasculation, Multiple Dommes, Strapon, Anal Fucking, Anus Fucking, Ass Fucking, Anal, Anus, Ass, Dildo Fucking, Dildo, Pegging, Strap-On, Strap on, Teen Domes, Young Mistress, Teens
File Name : 11___your_manhood_is_for_sale_full
Format: MPEG-4
File Size : 656 MB
Duration: 00:28:55
Video: AVC, 854 x 480, 30.000 FPS, 3000 kb/s
Audio: AAC LC, 2 channels, 128 kb/s
Download
Click on lock to get the link
Related news
Comments