Club Stiletto - Amazon Damazonia - You'll Keep your Job but now you're My Office BITCH Part 2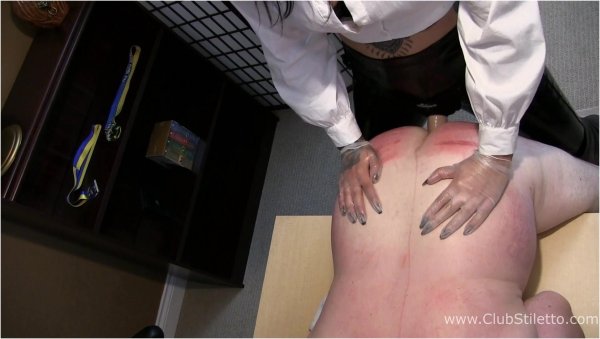 In Part 1 of this two part series Amazon Damazonia has called in one of her warehouse boys to fire him. He is so desperate to keep his job that he gets on his knees, pleads for his job, and says he will do anything to keep it. As this scene opens she now has her well flogged employee laying over her desk and ready to take her huge strap-on. "I hope you are ready to prove yourself to me" she tells him adding "I'm going to fuck you like the bitch that you are." She finger fucks his ass and then slides her rubber cock between his ass cheeks and then into his virgin ass. Soon she is pounding him for all she is worth and the slave moans and groans and tells her "I'm your bitch, Boss."
"You're going to be the office bitch and that means when everyone has gone out for drinks you'll be in her taking my cock" she informs him. Damazonia loves looking down and seeing his red, welted ass and seeing her unit go in and out of his slutty hole. She reaches down between his legs to squeeze hiss cock and balls and tells him that she is also going to put him in chastity because she doesn't want him using his cock anymore. It's important that he is always in a state of arousal and actually looking forward to his after work requirements. "You're just a hole to fill and fuck" she tells him. She slaps his ass and really fucks him hard until she feels she's given him enough. She tells him to get on his knees now and suck her cock. She pulls his head in so he takes the entire thing down his throat. She then gets the slaves on all fours so she can fuck him some more. She makes him repeat that he is her bitch. She then sits on the desk and uses him as a foot stool before moving back to her office chair. "Go get me a cup of coffee" she tells him, after all he has to be more than just a fuck toy. As he walks away she calls him a dirty slut.
mp4 | 1920*1080 | 594,77 MB | 00:06:30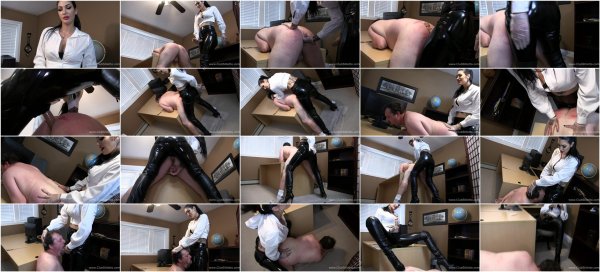 Download
Click on lock to get the link
Related news
Comments