MISTRESS GAIA - PRISONER 1603 - HD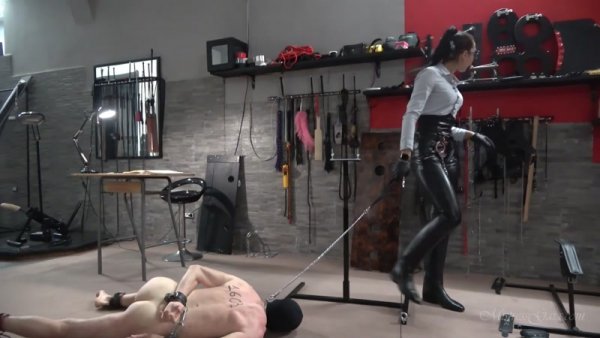 ITALIAN SPEAKING
CUSTOM REQUEST - Your profession is to tame and reform useless slaves for a monthly payment, so the slaves can be raised to obedience, submissiveness and get fit again. You do this with daily punishment, humiliation, hard training exercises, so that the owner can return a submissive and obedient slave. The threat of a new stay with mistress Gaia for a few months is usually enough for the slave to behave as well as he absolutely can in the future!
In the dungeon you have a male prisoner, owned by your girlfriend, a famous businesswoman. Unfortunately, her slave has failed to act as obedient and submissive as a slave should. Since she doesn't have enough time to take care of the problem herself, she has "outsourced" it to you for three months of harsh and merciless treatment. The pig has also become fat, and will be coerced into weight loss with the help of less food and a lot of intense training motivated by a very cruel and creative sadist who knows how to get things done!
SCENE 1
You are about to start your work day after a lazy morning time in the sun, and starts to prepare for today's training of the slave. First you goes to your wardrobe next to the dungeon, dressed in everyday casual wear, because of the summer heat you only wear a t-shirt and a skirt, as well as sandals.
You start dressing up for today's handling of the slave. Today's work outfit for the cruel slave trainer is riding pants in black leather that you put on. The trousers also have a black leather belt. Then a classic white blouse with a matching leather corset. Finally, put on a pair of black high riding boots. Then you pick up the paper folder for the specific slave and look through the program for planning today's training. The folder contains the necessary information about the condition and progression of the slave since arrival, what kind of punishment he should be given and further plan for development etc. After watching, you put on a pair of black leather gloves that you call the whipping gloves. All the time you have a satisfied sadistic smile around your mouth that shows that this is the right thing for you and that you like the job you are doing.
Then the time has come to choose the right equipment for today's events ... On the wall you have a large selection of whips and canes hanging and you start by finding something you want to use on the nasty pig today. Now with the sadistic smile you begin to study the implements by touching and do some swinging in the air with a sound who confirming that the slave will soon have a very painful event. You decide to use a long dressage whip today. Then you take a leash that you coil up and attach to the belt, along with a pair of steel handcuffs.Then you take a key from a desk drawer that you put in your pocket. You take the whip in your hand, when tapping on your boots with the whip as you walk toward the door of the dungeon, open it and enter a totally dark room.
SCENE 2
Boot steps can be heard on the floor and rustling from a chain in the totally dark room. Then the lights come on and you can see an absolutely amazing mistress standing by the light switch. The dungeon is equipped with everything needed for your ongoing slave business - everything! Pillory, punishment benches, chain suspension and many different punishment tools - all ready for use!
In the corner there is a steel cage with the lucky one waiting inside. The slave struggles to look after almost 24 hours in the dark, and he shakes in fear of what he knows is coming. The pig is completely naked but has leather cuffs on his hands and feet, his arms have been fastening on his back since yesterday for extra pain and effect. At his cock, of course, it's a chastity cage put on from day one. On the back, numbers from a black marker indicate that the slave has been numbered 1603 at the stay. Red stripes and marks all over the body show that Mistress Gaia has trained the candidate for a few days already! The mistress begins to slowly walk towards the cage with a dangerous smile as she tap the whip against the boots and then walks slowly around the cage. Next you takes a stiff, pointed cane that stands next to the cage and starts to stick the slave body while he is caged, and you asks: have you missed me since yesterday? Looking forward to today's treatment? As you know, I promised it would be even more painful today, the promise I plan to keep! Ha ha ha. Then the slave is ordered to kiss the boots that are put into the cage one by one, to show respect to the pig tamer. Then you unlocks the door of the cage with the key from your pocket and open the door. The pig is ordered to crawl out. Immediately, the leash is placed on the collar with a click. Then the slave will have to go through many rounds of crawling on the floor in circles while the ruler commands with her sharp and strict voice. The dressage whip is also used for faster progress along with some powerful boot kicks. Mistress loves to give harsh punishment very well, especially when the helpless bitch starts sweating and getting exhausted. It's a big turn on for you, and the punishment gets harder and harder. The whip is now making some red marks on the worm ...
ITALIAN
La sua professione e' quella di prendersi cura, a pagamento, degli schiavi ribelli di altre padrone/i e di ri-addestrarli al fine di renderli docili e obbedienti. In questo momento lei ha nel suo dungeon lo schiavo di una donna manager che non si e' comportato bene. Poiche' la sua Padrona e' sempre molto impegnata, lo ha affidato a lei perche' lo raddrizzi tramite privazioni di cibo, un intenso addestramento e dure punizioni.
EPISODIO 1
Lei si sta preparando per l'addestramento giornaliero dello schiavo dopo aver passato la mattinata a prendere il sole. Lei va nel suo guardaroba, annesso al suo dungeon, vestita in modo casual, dato che e' una giornata caldissima: maglietta, gonna e sandali. Si cambia per iniziare il lavoro; indossa pantaloni in pelle nera da cavallerizza con una cintura di pelle nera; una camicia bianca classica con un corsetto in pelle coordinato. Poi indossa un paio di alti stivali neri da cavallerizza.
Prende la cartellina con la documentazione dello schiavo: lo stato del suo addestramento, le punizioni che dovra' subire e il programma per i giorni seguenti. Dopo aver esaminato i documenti, indossa un paio di guanti in pelle nera che lei chiama "whipping gloves". Per tutto il tempo lei ha un sorriso sadico che dimostra come lei trovi piacere nel lavoro che fa.
Poi viene il momento di scegliere gli strumenti per le attivita' del giorno. Appesi al muro c'e' una serie di fruste e canes e lei comincia a scegliere quelli che usera' sullo schiavo. Sempre col suo sorriso sadico, impugna i diversi strumenti e li fa roteare in aria con un suono che fa presagire il dolore che infliggera' allo schiavo. Decide che usera' una lunga dressage whip. Poi prende una catena-guinzaglio per il cane che avvolge e attacca alla cintura e un paio di manette di acciaio. Poi prende una chiave da un cassetto e se la mette in tasca. Prende in mano la frusta e, facendo toc toc con la frusta sugli stivali, si avvia verso la porta del dungeon, la apre ed entra nella stanza completamente buia,
EPISODIO II
Si sentono i passi degli stivali sul pavimento e il tintinnio della catena nella stanza buia. Poi le luci si accendono e appare lei, vicino all'interruttore, in piedi, in un atteggiamento inequivocabile da mistress. Nel dungeon c'e' tutto il necessario per l'addestramento dello schiavo: pillory, spanking bench, cavi per sospensioni, il tutto pronto per l'uso.
In un angolo c'e' la gabbia di ferro con lo schiavo. E' rimasto 24 ore al buio e trema di paura. E' completamente nudo, indossa cavigliere e polsiere in pelle, ha le mani legate dietro la schiena dal giorno precedente, indossa, sin dal primo giorno, una cintura di castita' . Sulla schiena porta scritto con un pennarello nero il numero 1603. Strisce e segni rossi su tutto il corpo stanno a testimoniare le punizioni che gli ha inflitto nei giorni precedenti. Lei si avvia lentamente verso la gabbia e gli gira intorno, con un sorriso sadico, battendo la frusta sugli stivali. Poi prende un lungo cane che si trova vicino alla gabbia e comincia a colpire con la punta il corpo dello schiavo e gli chiede: "Have you missed me since yesterday? Are you looking forward for today treatment? As you know, I promised it would be even more painful today, the promise I plan to keep!!! Ha, ha, ha". Poi ordina allo Schiavo di baciarle gli stivali che lei gli porge, uno alla volta, dentro la gabbia. Poi apre la porta della gabbia con la chiave che ha in tasca. Ordina al maiale di strisciare fuori immediatamente e, subito, gli attacca la catena al collare. Poi fa compiere allo schiavo numerosi giri, strisciando sul pavimento, mentre lei gli da ordini con voce tagliente che non ammette repliche. Lei usa a la dressage whip per stimolarlo a fare meglio, insieme a potenti calci con gli stivali. La Mistress gode nell'infliggergli dolorosissime punizioni, soprattutto quando l'animale comincia a sudare e ad essere esausto. Lei si eccita moltissimo e le punizioni diventano sempre piu' dure. La frusta lascia sempre piu' segni rossi sula pelle dello schiavo...
Corporal Punishment Fantasy, Whipping Fantasy
Corporal Punishment Fantasy, Female Domination, Female Supremacy, Gaia, Whipping Fantasy,
File Name : 11___MISTRESS GAIA - PRISOND
Format: MPEG-4
File Size : 1.21 GB
Duration: 00:31:45
Video: AVC, 1920 x 1080, 25.000 FPS, 5276 kb/s
Audio: AAC LC, 2 channels, 159 kb/s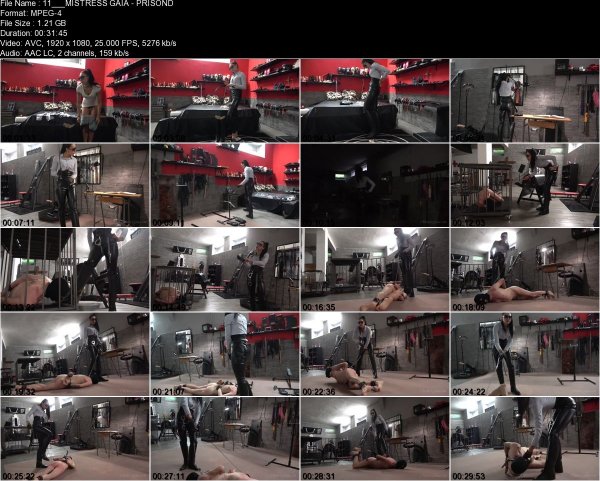 Download
Click on lock to get the link
Related news
Comments