MMA Domination - Megan Jones - The Black Widow - Powerful hand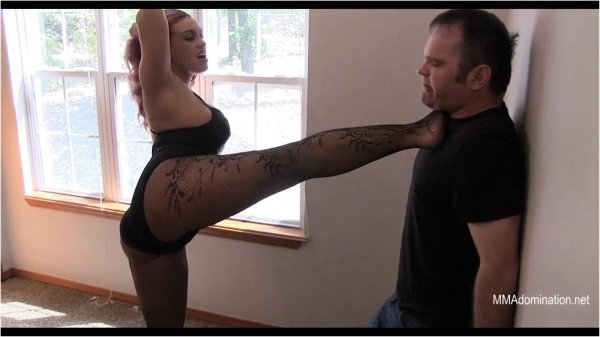 Megan Jones is the lethal Executrix Black Widow, dominating her prey.  Get two amazing female domination clips featuring Megan Jones in one download, for a discounted price!
The Black WidowDressed in her black velvet leotard, the beautiful and venomous Megan Jones prepares to capture yet another prey in her web through enticement and deceit. The Black Widow uses her busty 38 DD's and pantyhose covered thighs to lure her naive prey into her web. The Black Widow's web is her best hunting tool as her prey quickly gets an up close view of her fishnets and is quickly caught in the Black Widow's scissorhold. Utilizing a double foot choke to subdue her prey, she humiliates him for thinking he could actually get a woman this beautiful. Stepping on his chest for full weight trampling, the Black Widow is incapable of mercy. KO'd from the powerful reverse headscissors of the Black Widow, her prey is utterly disoriented as she commands him against the wall. He is putty in the Black Widow's hand as he is further tormented with her powerful thighs. The Widow sadistically tells her prey, "I think it is time for you to go to rest" as she ignores his pathetic pleas. Living up to her name, the executrix claims another victim in her web of deceit and temptation; because once you are in the grasp of the Black Widow  "There is no Escape".
The Black Widow Executrix - Dressed in her black leotard, the beautiful and venomous Megan Jones reprises her role as The Black Widow, as she prepares to catch another slave in her web through enticement and deceit. The Black Widow uses her slave's foot fetish against him while she asks as he strokes her pantyhose, How bad do you want these feet? The evil Black Widow shoves her beautiful size 9 foot in her slaves face, and establishes dominance by making him sniff them. Trapping her prey in her powerful scissorhold, The Black Widow humiliates him by bragging about all the ways she will use her feet to torment him and Theres nothing you can do about it. Smothering her preys face with her sweaty feet, the sadistic Black Widow repeatedly stomps on his face with foot slaps. As The Widow commands, open your mouth, she stuffs the back of her heel down his throat and continues with the foot worship. Shoving her slave against the wall, The Black Widow reaches her arches very high, as she presses her foot against his throat, apathetically watching him choke from her dangerous and fatal feet. Infuriated that he is gagging from the pressure of her foot, The Widow removes his shirt and belt, threatening him with a whipping if he does not remove his pants. Wrapping the belt around her victims neck, The Black Widow simultaneously tramples her foot on his face while choking him with his belt, as she orders him to Take it. Trapping her prey deep into her reverse headscissors, The Black Widow ignores his taps, as his simple submission isnt enough to quench her insatiable thirst for sexual sadism. As the ruthless Widow traps her prey in a standing throatscissors, she mercilessly snaps his neck with her stocking covered feet- the savage Executrix plays with the body of her comatose captive.
Keywords: Female Domination, Free, Femdom, Wrestling, Scissorhold, Scissoring, Scissored, Scissor, Executrix, Foot Gagging, Megan Jones, Long Hair, Stockings, Fishnets, Lingerie, Bdsm, Foot Slapping, Smothering, Face Sitting, Facesitting, Face Sit, Facesit, Ass Smothering, Smother, Figure Four, Kicking, Slapping, Fighting
mp4
1280*720
398,45 MB
00:12:21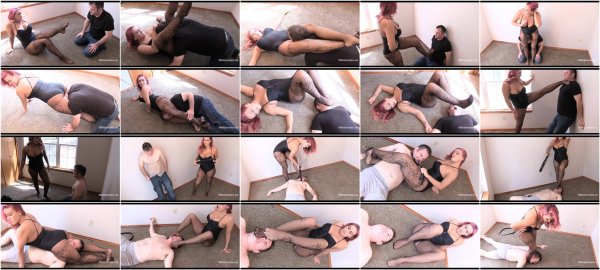 Download
Click on lock to get the link
Related news
Comments