Worship The Wolfe - Don't Mess With Ivy's Plants (720 HD)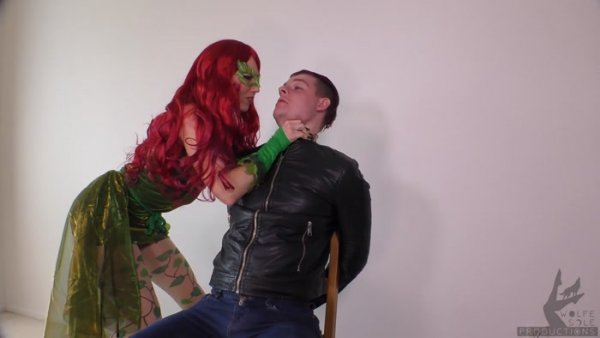 Part 1: Poison Ivy Ends The Henchman
Poison Ivy has captured one of the Joker's henchmen and tied him to a chair, where she intends to obtain the information she wants about her enemy's plans.
As the henchman awakens tied to the chair, Ivy leans in and blows him a dose of her love spell, putting him completely under her control. Once she has her victim mesmerized, Ivy proceeds to taunt him with the idea of feeling her lips take his life away. As she sees how desperately the henchman wants her, she gets him to reveal the information she wants, as she toys with him, threatening to take his life.
Unfortunately…or maybe fortunately… for the henchman, Ivy does not like hearing of the plans the Joker has for her precious plants… and the henchman must pay for that… with his life…
Part 2: Poison Ivy's Crush On Batman
Batman has gotten word of the events of Poison Ivy Ends The Henchman and come to take Poison Ivy to Arkam. Poison Ivy, however, does not plan to go to Arkam, or tolerate anyone putting her plants lives in jeopardy. Ivy stands and blows her mind-controlling dust toward the big bat, but her magic doesn't work… giving her a reason to instead over-power him with her superior body; getting him into body and head scissors, sitting on his face and body, and finally knocking him out (real KO!) in a reverse head scissor.
File Name : 11___WorshipTheWolfeDo0HDSmothering
Format: MPEG-4
File Size : 559 MB
Duration: 00:15:18
Video: AVC, 1280 x 720, 29.970 FPS, 5000 kb/s
Audio: AAC LC, 2 channels, 96.0 kb/s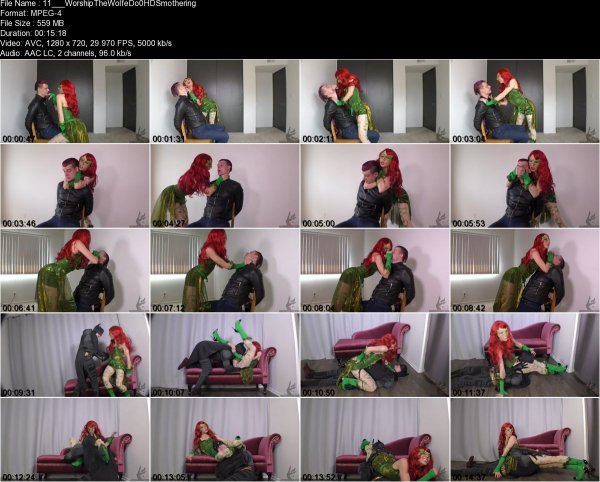 Download
Click on lock to get the link
Related news
Comments