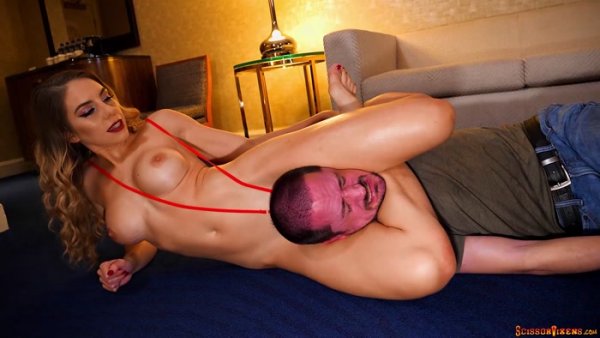 Cake and her incredibly DELICIOUS and oh so POWERFUL THIGHS return to ScissorVixens to teach a man that he should be careful what he wishes for!
As you may recall...Cake is s STUNNING 5'9" tall dancer and personal trainer and her legs had us begging for mercy and tapping out quite a bit the first time we shot with her!
And in this video...we get the same OVERWHELMING results!
A man calls an escort service asking for a woman with a STUNNING body, an ass to DIE for and LETHAL LEGS...saying, "I basically want to be OVERWHELMED!".
Cake arrives wearing a short see-through dress and high heels and tells him to take a seat. After pushing him down on the couch, Cake slowly lifts her dress to reveal the LETHAL LEGS he requested.
But for him...her LETHAL LEGS are going to do things to him he may not be ready for!
Listen as he struggles to repeat Cake's words..."I said you're welcome Cake!".
Of course when your head and neck are being absolutely DESTROYED by Cake's LETHAL LEGS and ASS TO DIE FOR in her devastating reverse head scissors...not many, if any, would be able to talk!?
She continues to work him over on the floor with breath-robbing body scissors, head scissors from behind as she lifts her body high off of the floor nearly decapitating him, suffocating reverse figure-4s and mixes in some hand-over-mouth to take the torture to a whole new level!
After he's been thoroughly OVERWHELMED on the floor, it's time to take things to a more 'sensual' level on the bed.
Watch as Cake shows off her Amazonian power by scooping the little man off of the floor while tossing his limp body over one shoulder and carrying him to the bed where she tosses him down like a empty sack of potatoes!
She tells him..."Taking your breath away really gets me going!" as she SMOTHERS him with both her breasts and stomach completely covering his mouth and nose depriving him of oxygen!.
Watch and listen as he tells him..."I've CRUSHED bigger guys than you!" as he gags and struggles to breath from her eye-popping front head scissors!
Then Cake triumphantly slaps one of her powerful thighs saying..."LETHAL LEGS!".
She then rolls to her side while keeping him trapped deep in her crotch and smothering him with her pussy saying..."This is your fantasy...to be OVERWHELMED...COMPLETELY!".
Then Cake lays back in SCISSOR-GASMIC ECSTASY as she continues her breath-robbing combination of scissors and pussy-punishment.
In the end she finishes him off for good as she tells him..."It's time for you to die!".
And die he does in her life-ending reverse figure-4!
Next time you order a female companion be careful not to request to be OVERWHELMED because if it's Cake who shows up...she'll do just that whether you like it or not!
File Name : 11___SVDL-1347 Overwhelmed! (Cake)
Format: MPEG-4
File Size : 1.35 GB
Duration: 00:18:06
Video: AVC, 1920 x 1080, 59.940 FPS, 10.4 Mb/s
Audio: AAC LC, 2 channels, 317 kb/s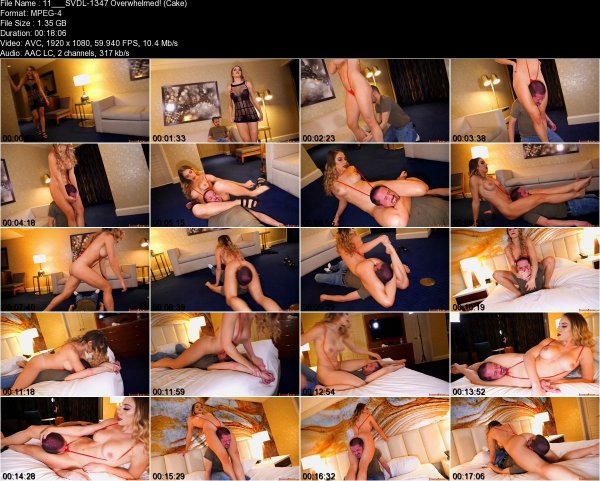 Download
+10% DAYS OF MEMBERSHIP KEEP2SHARE.CC
Click on lock to get the link and watch online
Related news
Comments