Cybill Troy, Mistress Bliss - Filthy Rubber Ashtray Gimp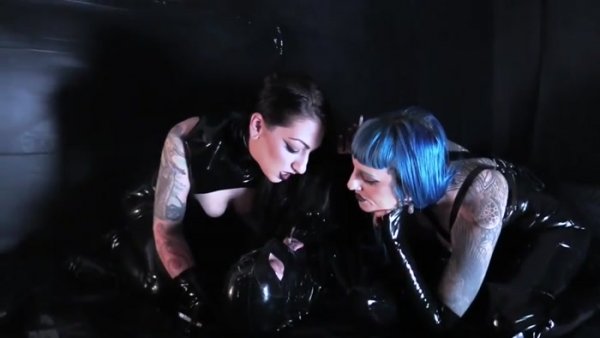 When it comes to entertaining a fellow Mistress, especially at their first meeting, Cybill Troy is an impeccable hostess. She knows how to provide exactly the right ingredients for the mutual enjoyment of both herself and her guest.
With Mistress Bliss paying her a visit, Miss Troy knows they both share similar interests, so what better way to warm up the proceedings and her gimp, than an enjoyable shared smoking experience. Even more enjoyable for both Mistresses when they are using Miss Troys gimp as their personal smoke filter and human ashtray.
Cybill Troy and Mistress Bliss generously fill the mouth of the gimp up with copious amounts of their delicious spit before they begin blackening the gimps waiting tongue with their ash and testing out just how much of their smoke the gimps lungs can withstand. Miss Troy increases the intensity of her gimps predicament by restricting when her gimp can exhale, only removing her latex gloved hand when she is happy that her gimps lungs are truly bursting
With two sets of lungs to satisfy and two lots of incoming ash and spit, its not long before their gimp is chocking and producing excess saliva of his own. This excess is useful as it allows both Mistresses to explore how far they can stuff their hands down the throat of their shiny black latex human ashtray.
As both Ladies continue forcing their exhaled smoke into their ashtray with increased vigour, the amount of ash they need to deposit also increases. This is bad news for their ashtray, as this only serves to increase the pools of saliva in its mouth. With more saliva comes more and more intrusive explorations down the throat, as Cybill Troy and Mistress Bliss test out just how much of a mess they can make of their spluttering, choking and overwhelmed human ashtray.
With their once shiny gimp now covered in much ash and spit and now that both Ladies are satisfied with their cigarette intake, Miss Troy decides to show her guest just how long her gimp is capable of going without breathing. She laughs in delight at her gimps willingness to renounce oxygen for the mutual enjoyment of both herself and her guest. With spit bubbling up from its mouth, a hearty face slap from Cybill Troy indicates to her gimp that the ladies have now finished with their smoking and are now ready to move on to even darker and more traumatic uses for their well used ashtray.
Keywords: Female Domination, Free, Femdom, Dual Domination, Double Domination, Cybill Troy, Mistress Bliss, Smoking, Smoke, Cigarette, Smoke Fetish, Human Ashtray, Hand Over Mouth, HOM, Smothering, Smother, Gagging, Rubber Fetish, Latex, Rubber, Spitting
File Name : 11___Cybill_Troy_-_Filthy_Rubber_Ashtray_Gimp_-_Mistress_Bliss
Format: MPEG-4
File Size : 200 MB
Duration: 00:16:24
Video: AVC, 960 x 540, 30.000 FPS, 1499 kb/s
Audio: AAC LC, 2 channels, 198 kb/s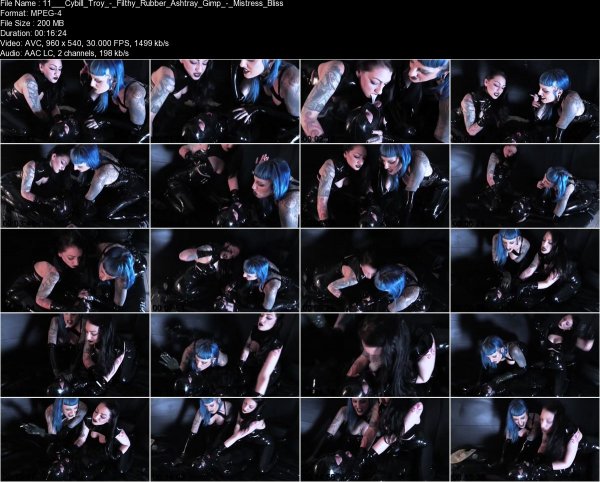 Download
Click on lock to get the link
Related news
Comments