Domina Planet - Mistress Winnie - Foot Re-Orientation - Smelling Femdom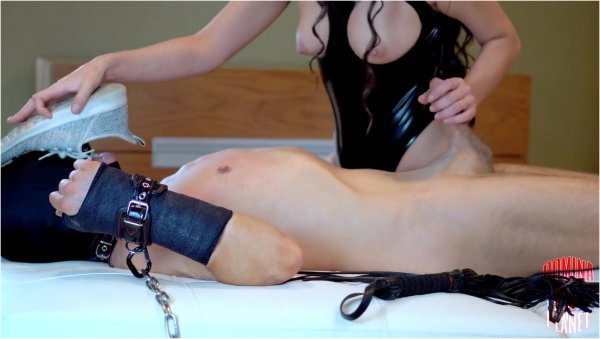 Mistress Winnie has been training a slave for a while that She thought had some potential, but unfortunately for Her (and him) he has failed at being a competent pussy cleaner and pleaser and he even failed at ass cleaning and anal tongue fucking. The only position She has left is as a foot and shoe slave, but this one has literally NO interest in feet or shoes; he doesn't have a foot fetish. But Mistress has invested a lot of time, and paid a fair amount to buy him from his (former) wife, and so She has decided to induce the fetish in the slave.
She is using a 'Pavlovian' technique;She will do this by only giving him sexual stimulation when smelling or tasting Her beautiful feet and to brutally punish him when confronted with Her pussy or ass. She wants him to and to no longer even get turned on by Her delicious pussy and earthy asshole and just Her perfect feet. 
"Slave, you've failed miserably at being my pussy and ass slave. You're just not good enough, so I'm gonna make you my foot bitch. I know you don't have a foot fetish...yet. You will soon"
She has the slave bound in and in sensory deprivation, with his chastity obviously removed and on a white sofa bed. She wants to train him first by scent and explains this to the slave as She climbs on top of him. She puts Her bare,  beautiful pussy in his face and has him sniff it deeply. As his cock starts to harden, She winds up and slaps it with Her open hand, HARD, causing him to scream and writhe in pain. She has him start kissing Her pussy and ass, as his cock stiffens and She slaps it again. This continues, over and over, until he's in agony and his cock starts to get soft again.
She climbs off his body and takes pair of dirty pantyhose, holding them up to his nose, and asks him:
"What does this smell like to you, slave?"
"Like old cheese, Mistress"
"WRONG, SLAVE. TO YOU, THEY SMELL LIKE AMBROSIA. NOW SAY IT!"
She grasps his cock and starts pumping it, while he repeats his mantra. She does this to him over and over, with a pair of dirty gym socks that had worn for a workout. They are dark brown at the toes and obviously well worn. She takes the dirty socks and starts dragging them back and forth over his nose and mouth, asking him:
"What do this smell like to you, slave?"
"Like dirty, sweaty socks Mistress"
"WRONG SLAVE! TO YOU THEY ARE HEAVEN ON EARTH!"
Then She takes a dirty gym shoe and puts it over his face, him to inhale it deeply, all the time stimulating his cock and causing him to enjoy smelling Her dirty shoes and socks. She then climbs back on top of him and has him start to kiss Her pussy. This of course gets him as hard as steel, and She begins a series of penis slaps, cock head smashing and ball slapping punishments that have him screaming in agony. He is so turned on by kissing Her pussy but starts to get softer due to the excruciating pain he is enduring. Now She commands him to start licking Her pussy and to make Her cum. He cannot help but get hard and the painful penis punishment continues, over and over.
Finally he seems completely spent, so She grabs a worn old pump and the nylons and ties the shoe around his face, him to breath through the shoes for the entire night as She leaves the room.
Keywords: Female Domination, Free, Femdom, Foot Humiliation, Face Sitting, Facesitting, Face Sit, Facesit, Ass Smothering, Smother, Foot Smelling Handjob, Sock Smelling, Asian Goddess, Pantyhose Domination, Foot Slave Training, Aversion Therapy, Penis Punishment, Shoe Slave, Cock Slapping, Ball Slapping, Cock Jamming, Ass Kissing, Pussy Kissing, Ass Worship, Annilingus, Arse Licking, Assworship, Asslicking, Ass Licking, Dirty Sock Smelling, Cbt, Shoe Smelling, Foot Worship, Footdom, Foot Domination, Footworship, Foot Fetish, Footlicking, Fetish, Foot Licking, Pantyhose Smelling, k2s, Keep2Share, Watched, Online, Stream, Femdomcc
mp4
1920*1080
323.45 Mb
00:11:23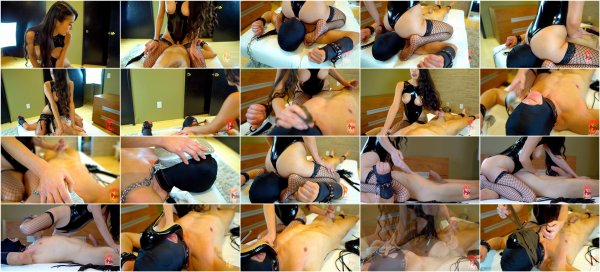 Download
Click on lock to get the link
Related news
Comments