The Mean Girls - Goddess Draya, Goddess Platinum, Miss Dandy - Goddess Draya's First Time Ballbusting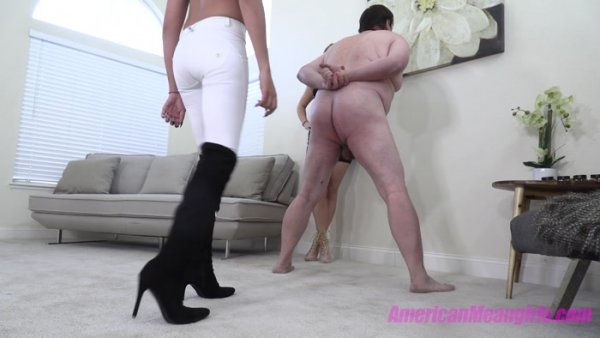 OMG I am so proud of my super hot, 18 year old, gorgeous, brand new Goddess!!! Today is Goddess Draya's very first day of being a Mean Girl… not only that she has never in her life ever done any kind of fetish work. She is brand new at this and I really think we are blowing her mind, a lot!!!LOL!
Goddess Draya is killllling it! When I talked to her when she got here today she was a little nervous and I told her, just be yourself and DON'T HOLD BACK!!! And let me tell you, she is definitely NOT holding back.
I know Goddess Draya is completely mind blown by how insanely pathetic our slaves are. She has never in her life seen males be so submissive. It is always shocking to all new Mean Girls, including myself when I started.
Let's get down to business… Goddess Draya has never kicked a dude in the balls ever! So when I told her that our slaves are so submissive that we can kick them in the balls as hard as we possibly can, she didn't't believe me. Hahaha!!! I had to explain to her how worthless these losers are and they will do anything to be around us. I told her how well ballbusting sells so they will sacrifice their disgusting balls just to make us a fuck ton of money. Let's face it, there is no way any gorgeous women like us would ever even consider touching their balls anyway other than to destroy them.
I had Miss Dandy hold my video camera so I could show Goddess Draya how it's done. I totally get off on the look of pure fear on my slaves faces when they figure out that I am going to be the one kicking them in the balls. If they haven't experienced my kicks then they have heard the rumors and it scares the hell out of them.
Once I showed Goddess Draya how to kick this bitch in its balls as hard as you can I took my camera back from Miss Dandy and then had her hold this slaves leash to make sure it didn't move while Goddess Draya was doing her target practice. Both Miss Dandy and I talked Goddess Draya through her kicks and OMG she is a natural born ballbuster!!!! I knew she was perfect but this takes her perfection to an entirely new level. I am so proud!!!!
I think Goddess Draya will fit in perfect here. I am sooooo excited!!!
– Goddess Platinum
Keywords: Female Domination, Free, Femdom, CBT, Ball Abuse, Ballbusting, Balls Busting, Ball Fetish, Goddess Platinum, Young Mistress, Mistress, AmericanMeanGirls, MiamiMeanGirls, The Mean Girls, The Mean Girls Club, Goddess Draya, Miss Dandy, Triple Domination
File Name : 11___The_Mean_Girls_-_Goddess_Draya__Goddess_awetgsdgabusting
Format: MPEG-4
File Size : 1.08 GB
Duration: 00:12:02
Video: AVC, 1920 x 1080, 59.940 FPS, 12.5 Mb/s
Audio: AAC LC, 2 channels, 257 kb/s
Download
Click on lock to get the link
Related news
Comments