Madame Catarina - Cruelest Beauty - Play In Swiss Or A Real Session Filmed - Entire Movie (720 HD)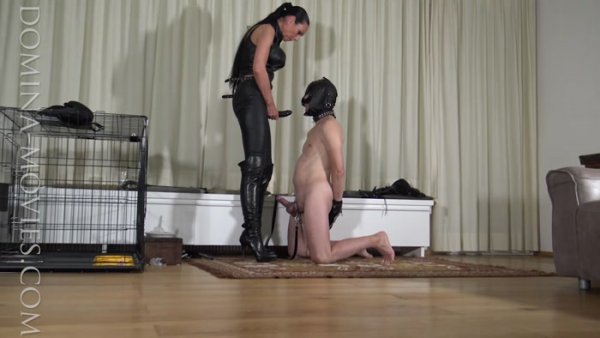 Whilst on her Swiss vacation Madame Catarina has been adding to her stable of slaves, giving Swiss slaves the chance to experience absolute and complete domination at the hands of the most beautiful and sadistic of Mistresses. One such slave had agreed for his first session with Madame Catarina to be filmed and my Mistress placed the camera in my inexpert hands and charged me with filming the session in its entirety. Madame Catarina had ordered the slave to lock himself in chastity that morning and what follows is a real time session as it happened.
Looking amazing in leather and boots Madame Catarina leads her collared and hooded slave into her holiday playroom pausing at every step to allow her new slave to kiss the heels of her shiny leather boots. The slave is duly inspected with particular attention paid to his nipples and locked cock as Madame Catarina decides how she is going to use her new toy and very soon the new slave has been transformed into Madame Catarina's doggy slave. Madame Catarina takes great pleasure in humiliating new slave as she forces him to sway from side to side making his now free and hard cock wobble from side her to side. The slave is introduced to some basic doggy commands and allowed a short walk at Madame Catarina's side on the leash before being placed in his doggy cageand treated to sausage from the heels of her leather boots through the bars of his cage. The slave is released from the cage and fitted with the Fornophilia gag and funnel and allowed to dine on a feast of Madame Catarina's spit before he is used as an ashtray holder. With her cigarette finished the ashtray and gag are removed and Madame Catarina decides to test her new slave with her strap on. The slave is made to take the strap on deep into his mouth and suck for all he is worth. This obviously excites the slave and much to Madame Catarina's amusement he is force fed his own pre cum dribble before being led away.
Having taken her new slave to her "travel dungeon", laid him on her medical inspection bench and encased him in a leather body sack tightly bound cock and balls he is strapped down securely with leather straps. Madame Catarina begins to apply a set of urethra dilators to the eye of her news slave's cock taking great delight in the slave's cries and groans as the first dilator plunges deep into his cock. Madame Catarina decides to block the slave's cock from cuming and other larger dilators are used as the process is repeated until Madame Catarina decides to place a vibrating cock ring on the slave's cock. As the next dilator enters deep into his cock the slave experiences an explosive orgasm much to Madame Catarina's delight. Pausing only to plunge the dilator a little deeper before removing it Madame Catarina leaves her dungeon with her new slave still bound and helpless.
File Name : 11___MadameCatarinaCruelestBeautyPlm
Format: MPEG-4
File Size : 2.68 GB
Duration: 00:54:14
Video: AVC, 1280 x 720, 25.000 FPS, 6895 kb/s
Audio: AAC LC, 2 channels, 192 kb/s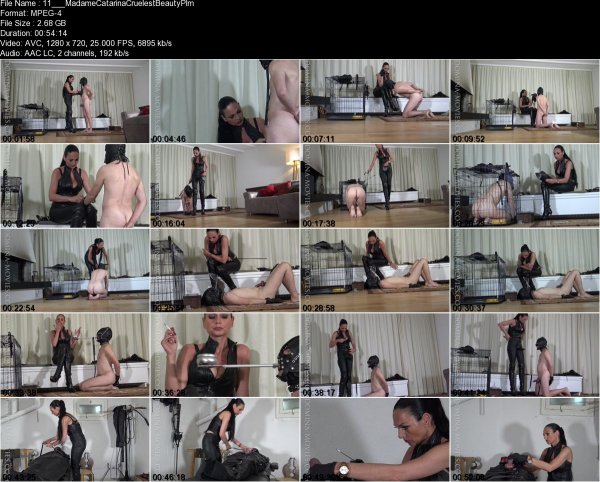 Download
Click on lock to get the link
Related news
Comments