Clubstiletto - Princess Lily - Let's See If You Can Get Me Into The Bedroom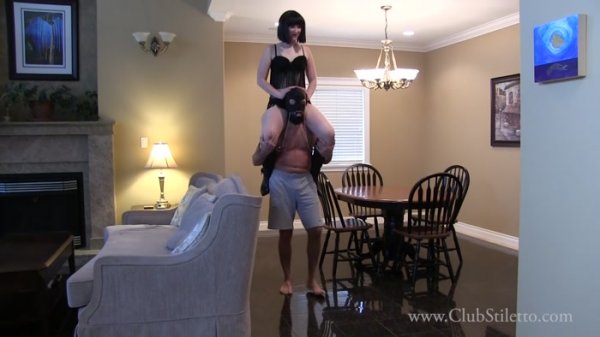 Sweet Princess Lily has made it a day of suffering for her slave. His mouth is secured open by a gag and he's been wearing nipple clamps for hours. She tells him she's going to up the ante by making him give her a shoulder ride. He'll prove himself to be a strong pony for her, and if she's pleased, she might even take him up to the bedroom. She gives you a perfect view of her perfect ass before she waves it in the pony's face and reminds him just what he's working for. He lustfully leans into her ass but she pushes him back; he must earn it, first.
As she mounts him, he struggles to get upright from his kneeling position. He manages to do so without any incidents so Lily starts to direct him around the house. She warns him that she'll send him to the glue factory if he drops her, and after a trip through the house, she orders him to carry her up the stairs. The camera follows behind to show you how plump and delicious Lily's ass looks. The slave does a few circuits of the upstairs hallway before she sends him back down the stairs. She's just getting warmed up though! She sends him around the rest of the house and even makes him gallop. She sends him towards the fireplace to do some squats, at which point the pony starts to show signs of fatigue. "This weekend you will give me and my girlfriends rides," she tells him, adding "and then soon you will be taking me through the forest trails for hours at a time." She tells him to take her to the bedroom, where the pony imagines there will be some sort of kinky reward. He sets her on the bed in anticipation and she says "Okay, you can return to your cage." As he crawls away, she leans over on the bed, again showing him her ass, and says "Pony, remember this is what you're working for." You can bet this pony will try even harder tomorrow!
File Name : 11___rw-lets-see-if-you-can-g3
Format: MPEG-4
File Size : 484 MB
Duration: 00:06:35
Video: AVC, 1920 x 1080, 29.970 FPS, 9931 kb/s
Audio: AAC LC, 2 channels, 317 kb/s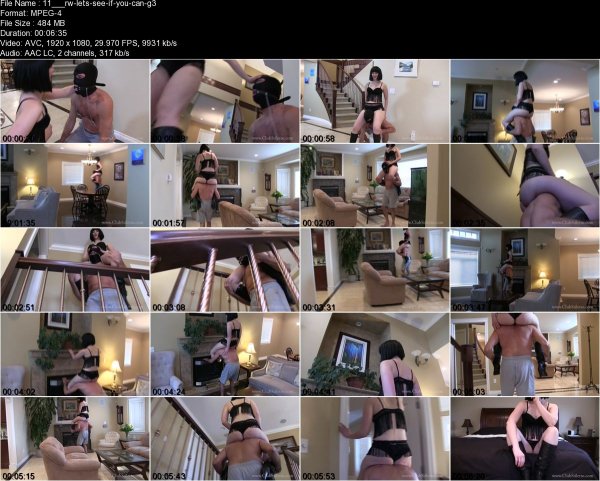 Download
Click on lock to get the link
Related news
Comments