The Mean Girls - Goddess Platinum, Goddess Tina - Whore Bag (1080 HD)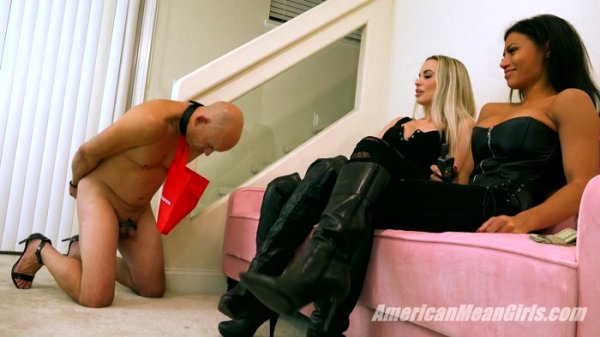 This slave will literally do ANYTHING it is told. It does not just focus on "its fetishes" or selfish desires, like most slaves. It is truly OWNED PROPERTY and does WHATEVER it is commanded by its Owners. Recently, it has been whored out by The Mean Girls to increase profits and make sure it is "always earning" for its Masters! Platinum cannot wait to show off to Tina what she has done to this freak loser NOW. (As if its dignity could not be stripped from it any more than it already has!)
Platinum explains that since turning tricks is totally legal in Vegas, she just has that "thing" stationed out on a streetcorner, literally begging to suck the cock of any tourist that walks by. Tina asks if the slave is gay? (She hasn't really used this one much.) And she laughs her ass off when Platinum informs her that he definitely is NOT gay! "So he literally gives BJs to random dudes walking by- just because you TELL him to??" She is amazed…but that is the power we have over these freaks.
And Our slaves want to please us sooo bad, so…why not take advantage of that and push it to the max?? We really believe these freaks were CREATED to be USED by us for OUR profit and amusement! Why else would God make them so fucking PATHETIC and desperate to please us?? (Not to mention let us treat them like absolute GARBAGE and they just take it no matter what. LOL)
This is where the real fun begins. Platinum explains that if this male-whore ever does hesitate to obey, we have had his balls PERMANENTLY HARDWIRED with an electronic shock device!! And with one little touch of a button – from anywhere in Vegas – we can literally drop him to his knees in agony with a debilitating electric SHOCK right to its balls!! Apparently, with this setup it feels pretty much like a cattle-prod directly to the testicles haha.
The slave begs her not to, but Platinum demonstrates how well it works just for Tina's amusement. Of course, Tina just HAS to try it herself!! (Can you blame her? It looks like SO much fun!) One touch of her little finger, and this bitch goes DOWN! Oh yeah, he would MUCH rather give a BJ to a total stranger than have THIS done to him over & over! (No matter HOW "straight" he is!! Or…was??)
Platinum has even locked his hands behind his back so there is no way he can try to rip the wiring out. And a bag that literally says "Whore Bag" is hung around his neck to collect the $$$ he earns for Us!! Can you imagine being sent out onto the street like this?? But he has no choice.
Now it is time for Platinum and Tina to take THEIR $$$ from their walking whore-bag (literally) and count what their bitch has earned for them. (Of course they get it ALL- the bald bitch with the sore jaw and gaping holes gets NOTHING.) But there is only like $100 and some change in here! After a WHOLE NIGHT of streetwalking for them?? WTF?! This bitch has some explaining to do to its "Mean Girl Pimps"….
File Name : 11___TheMeanGirlsGoddessPlatinum
Format: MPEG-4
File Size : 1.43 GB
Duration: 00:12:10
Video: AVC, 1920 x 1080, 29.970 FPS, 16.7 Mb/s
Audio: AAC LC, 2 channels, 192 kb/s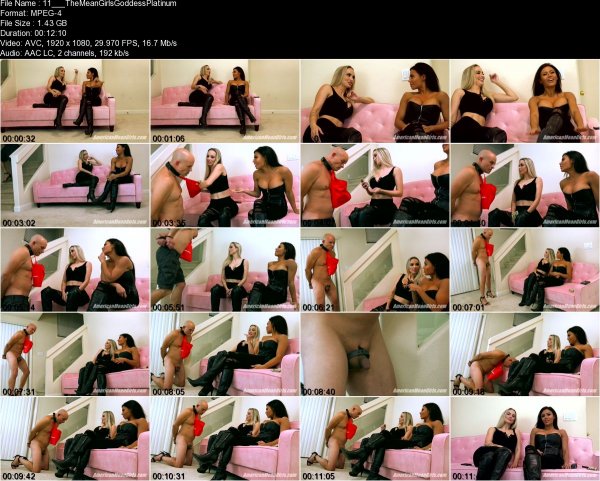 Download
Click on lock to get the link
Related news
Comments