Humiliation POV - Amai Liu - Tease and Denial Chastity Blow Jobs - Asian Goddess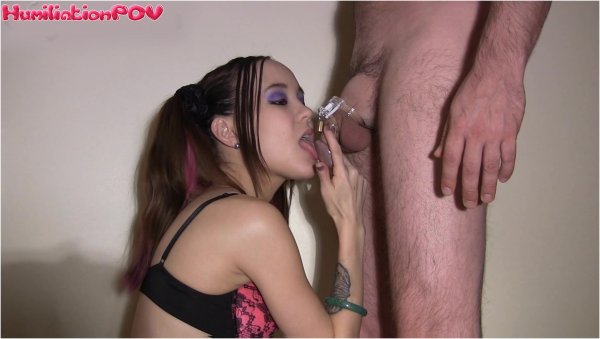 Amai Liu! This clip contains two different chastity blow job scenes!
Clip #1
Amai's loser ex bf hasn't gotten a blow job in months. So I decided to give him one, one he would never even feel, lol. I lick and suck his chastity cage, I look up into his eyes, he can't feel a fucking thing! I tickle his balls to make sure he's nice and hard in his cage making him even more frustrated.
I put my key into the lock and make him beg me to unlock him, but of course I didn't. I just continued to tørture him with my chastity blow job. Then I gently blew into his cage so he could feel my breathe. He was begging and begging to be unlocked, but I would never suck his loser cock ever again! So I just fucking teased him with his key over and over again.
He offered to pay me LOTS of money to unlock him, but there's not amount he could pay me. Fucking loser! He doesn't deserve to feel my sweet tongue. And how could I suck the cock of a man I don't respect.
I seriously had so much fun suck and licking his cage in this clip. I drove him absolutely nuts.
Clip #2
I've recently changed up my loser ex bf's chastity cage. He used to wear a plastic one that completely covered his cock so he couldn't feel anything. Now he wears a heavy metal cage with slots on the sides so that his dick can feel some stimulation. This new device is much more torturous because now I can allow him to feel something while still in chastity, without being able to receive the full pleasure it so desperately wants. This fucks with his head so badly, even more than before, he gets so horny and pathetic.
So I once gave him a chastity blow job with his last cage and he couldn't feel a thing. He could just see my gorgeous face sucking on his cage but felt no pleasure at all. This time, it's going to be Much worse, for not only will he be able to watch me suck his cage, but he will actually feel my tongue against the sides and head of his cock! My warm, wet mouth just grazing the edges of his cock will make him absolutely crazy, lol.
I lick and sucked the sides of his cage teasing his cock til it was completely erect and uncomfortable inside of his cage. He was literally bursting out at the sides. I looked up at him as I took the whole cage in my mouth and bobbed my head up and down. He could feel the wet warmth, it felt so good, but yet he could never feel the full effect of my mouth on his cock, just enough to tease and deny him. I wasn't letting him cum, lol. This was purely tørture meant as a form of control.
His cock was turning purple from being so hard in it's cage but that didn't stop me. I moved onto his exposed balls and tongued them expertly with my wet tongue. He was literally convulsing at this point, begging for release. So I took his key from around my neck and dangled it in his face as he begged me to unlock him. But I didn't, I just left him there, hard and frustrated, lol.
Keywords: Female Domination, Free, Femdom, Chastity Male, Chastity, Locked Dick, Cock Locked, Cock Cage, Keyholder, Key-Holding, Tease & Denial, Tease, Denial, Teasing, Blow Jobs, Brat Girls, Orgasm Denial, Asian, k2s, Keep2Share, Watched, Online, Stream, Femdomcc
mp4
1920*1080
1,36 GB
00:18:50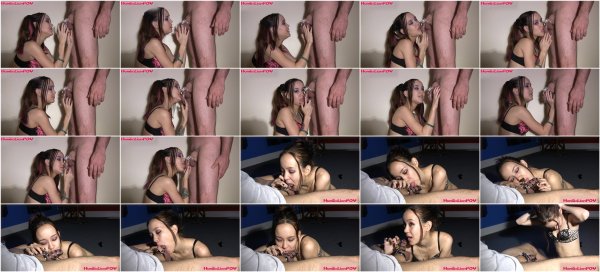 Download
Click on lock to get the link
Related news
Comments