Angel The Dreamgirl - Cumming In My Secretary's Shoe Ii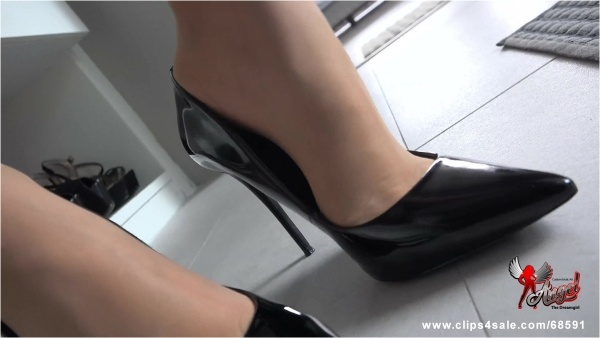 Custom Clip Request
Scene 1: 
Alice is attending a female friends house party, the friend has a strict "no wearing shoes in the house"policy so all the women at the party has to take off their heels at the front door. We can see many pairs of high heel shoes scattered around the front door (maybe 6-7 pairs of pumps, wedges, peeptoes) of different woman who attended the party. Alice is the last person to arrive and she removes/leave her heels outside and enters the house. 
A guy who was attending the party as well arrives and sees all the sexy smelly well worn high heel shoes of all the beautiful woman at the party. He takes the opportunity to sniff some of the ladies' heels. He was super turned on and unfortunately for Alice, he grabs one of her pumps and jacks off into it leaving a huge puddle of cum in one of her heels. He didnt even clean it up and returns Alices shoes back and goes into the party.  
After a while, Alice had to leave a bit earlier so she exits the house. She puts on the dry shoe first and then proceeds to put on the other shoe that is full of cum... As she pushes her toes into the shoe she felt something wet inside her shoe, She had a cute expression in the face (Not Shocking expression, More like casual reaction to feeling something wet in her heels)  and proceeds to look down at her foot and wiggles her toes slightly in her shoe to feel the inside of her pumps. She takes her foot out of the shoe and we can see her toes are all cover in cum as she wiggles them a bit in the air... She picks her pumps up and looks inside a bit but suddenly gets a notification on her mobile phone, its the taxi notifying that the car has arrived. She quickly puts her wet heels back on and stumble out of the area to get to her car.  
Scene 2: 
Alice is sitting at a table waiting for a business client meeting, She is wearing nice nude colour pantyhose. As she is sitting we can her from her facial expression and from her foot actions (Foot stretching in her heels, toes clamping in her pumps) that her heels are really making her toes uncomfortable. She looks around to check that no one is watching and decretely pops her heel out of one of her pumps and we can see a sign of relieve on her face. She shoeplays (just dipping, toes wiggling) in one of her pumps for a while and naturally and subconsciencely removes her heels and crosses her legs with her toes in the air clamping her toes together for 2-3 internal to ease the pain a bit.  
A waiter notices her clamping her sexy toes under the table and Alices unattended shoe and sneakily goes under her table (Maybe he pretends to drop a fork etc). He gets a good front view of Alices hard toe clamping movements and is extremely turned on. He steals the shoe away and cums a huge load into her pumps and sneakily returns the shoe back under Alices table without alerting her. 
Soon, Alices business client arrives. She uncrosses her legs and finds her shoe under the table with her feet without looking down to not let the client notice. As she puts her foot into the shoe, we can see the cum flowing out. because of her pantyhose Alice doesnt notice it immediate, She stands up and we hear a good squishing sound and more cum flows out... At this time, Alice was infront of her customer (greeting/handshaking but no dialogue), she briefly looks down and notices what happened to her shoe without letting the customer notice. They both sit down and we can see Alice slightly uncomfortable with what has happened.  
When sitting, she descretely removes her we shoe and crosses her legs, she sneakily takes a piece of tissue hoping to wipe her wet toes under the table but before she could reach down to her foot, her client decides to change location and she quickly puts her foot back into her wet and and walks off with him.  
Scene 3: 
A man was inside Alice's wardrobe closet, he jacks off into one of Alice's pumps and returns it back. Later that day, Alice walks into her closet and grabs her work shoes. She puts them on and feels something wet in her shoe she has no idea that's cum in her shoe. 
Scene 4: 
Alice is wearing pantyhose again. She is working at a dining table/desk where the front of desk exposes her feet and legs. Alice starts shoeplaying and eventually loses a shoe under the table. A man secretly steals the lost shoe and brings it somewhere else. He jacks off into the pump and secretly return it under Alice's desk without her even knowing. 
Soon we see Alice taps for her shoe and finds it. She puts her shoe a bit and starts to shoe play with the cum filled heels. Because she is wearing thick pantyhose and is really focused on the computer, she doesn't immediately feel the wetness in her pump. We see her dangling and dipping and seeing her wet toes and she is completely unaware of what happened. 
She finished up her work and puts her shoe on properly and stands up. The moment the stands up. She feels her toes slide in her shoe and feels something is wrong with her pumps. She looks down and notices the mess she had made while shoeplaying with the cummy shoe. 
She inspects her shoe and under the table to see what happened.
CUSTOMERS FEEDBACK: 
...the clip was amazing! many people will buy this!
i have already let everyone know about it! thanks again!
mp4 | 3840*2160 | 1,68 GB | 00:24:44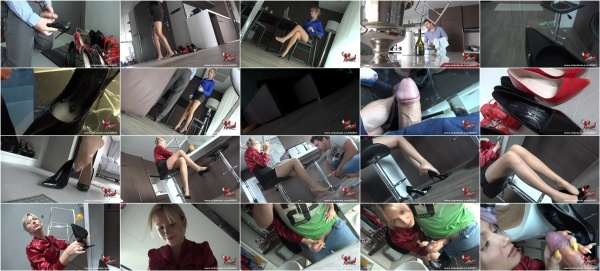 Download
+10% DAYS OF MEMBERSHIP KEEP2SHARE.CC
Click on lock to get the link and watch online
Related news
Comments