Mistress Anna Elite - Spit Filled With No Release - Spit fetish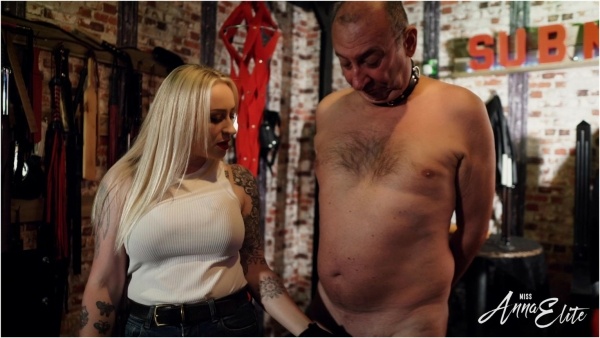 I adore nothing more than teasing my slaves with the things they desire most.
Slave G worships my spit, he adores the sight, the smell and the taste of it. It makes his cock so hard and desperate for release, today he will be my human spittoon, and he has been instructed to catch every single drop of my precious saliva in his mouth. To earn the privilege of swallowing and enjoying my spit to its full potential, he must control his excitement as I stroke his cock and resist the urge to orgasm. He mumbles agreements in response to my challenge however we are both well aware of just how difficult he will find this task.
To begin, I fill his mouth with my spit and he dutifully keeps it safe in his mouth. He misses one drop, so I collect the spit from his chin with my finger and put it back into his mouth. I tell him to stand, and remind him not to swallow my precious spit without my permission. If he cums, he will need to spit out my saliva as punishment. He moans with his mouth full of my spit as I start to stimulate his cock with my hand, struggling to concentrate on both not cumming and not swallowing the spit in his mouth. I instruct him to get to his knees again and fill his mouth further with my foamy precious spit. As I tower over him, I stimulate his cock and continue to fill his mouth, reminding him he must not cum or swallow. I tell him I want his mouth filled to the brim while his cock is tormented, I want his mouth so full and his cock so desperate that he gags with sheer excitement.
I order slave G to stand so I can get a better grasp on his desperate appendage. He moans in frustration as my hand wanks his cock faster and harder, continually reminding him that he must not cum if he wants to swallow my precious spit that is overwhelming his mouth.
After dutifully catching more spit in his mouth, G moans with desperation as I tell him to get back on his feet for one final edging. I remind him of the rules once again: if he controls himself during this edging, he will be rewarded with permission to swallow my spit. If he does not control himself, his orgasm will be ruined and he must spit out my saliva into the toilet. As I stimulate his cock for the final edging, his body tenses and his vocalisations become more intense and desperate. His breathing is heavy and as I start the countdown from 10, his body hunches over struggling to keep his imminent orgasm at bay. At 5 on the countdown his cock is desperate, he pleads and moans for the countdown to stop, and when we finally get to 0 with no orgasm I remove my hand and instruct him to swallow my divine long awaited spit.
He thanks me through heavy breaths, recovering from the torment. I tell him to get back on his knees and I give this human spittoon one last drip of my saliva before telling him to crawl away.
mp4 | 1920*1080 | 1000,02 MB | 00:06:52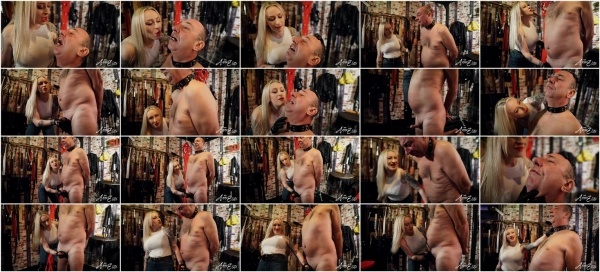 Download
+10% DAYS OF MEMBERSHIP KEEP2SHARE.CC
Click on lock to get the link and watch online
Related news
Comments