Brat Princess 2 - Athena, Chloe - Nerd Kisses Classmates Shoes and Worships Feet as Punishment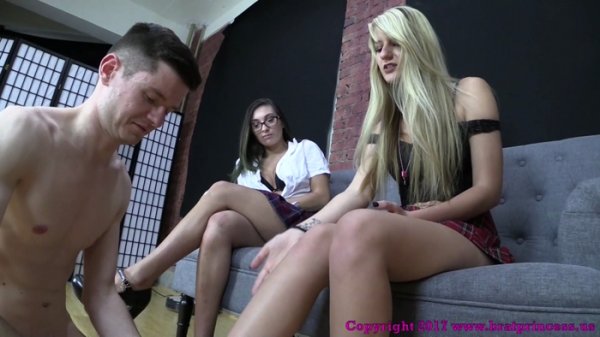 Chloe's mad at danni because she told him to carry Athena's books to class and he didn't do it. He says it's embarrassing to be seen always doing stuff for the girls but to be never treated as an equal. Chloe reminds danni that his place is below hot girls. To remind him of this, she makes him kneel before her and kiss her shoes. Danni does not want to kiss Chloe's shoes in front of Athena. He has a crush on Athena. Chloe gets very stern and danni is made to kiss her shoes, even though he doesn't like it.
Danni needs to learn to follow the rules that the girls make. The girls tell danni that he has to kiss both of their shoes. Danni has to go along with it or face a potentially worse punishment from them. Danni is not being very enthusiastic, so Chloe makes him strip out of his clothes. Danni definitely does not want Athena to see the chastity that Chloe makes him wear. Danni is forced to strip and the girls laugh at how scrawny his body is. Chloe shows off danni's chastity to Athena and brags about how long she's kept him in the device.
The girls decide that they want danni to worship their feet. They make him take off their shoes. Danni does not want to worship Chloe's feet in front of Athena. It's humiliating for him to act so submissively in front of his crush. Chloe does not care that danni feels emasculated. He isn't a man and isn't entitled to be treated like one. The girls laugh at danni. Athena wants danni to worship her feet too. Danni worships both girls' feet while they look down at him with judgement. They don't like all of danni's complaining and they plan to keep him in chastity longer. Chloe is mad that danni has not followed all of their orders. He's being obstinate.
Chloe tells danni that she and Athena have dates with their men. They want to test their date outfits out on danni before they go out with their boyfriends. Danni will have to tell the girls if their outfits are hot enough to impress a real man. He can tell if the outfit is working by how tight and painful his chastity gets. He will serve as the girls "outfit tester," or remain in chastity for an undetermined longer period. (14:08 long)
Clip Contains: Athena, Chloe, Female Domination, Shoe Kissing, Shoe Worship, Schoolgirl Outfit, Brat Girls, Nerd Humiliation, Foot Worship, Chastity
Category: FEMALE DOMINATION
Related Categories: SHOE & BOOT WORSHIP, CHASTITY, MALE SCHOOL, UNIFORM, FOOT WORSHIP, BRAT GIRLS
File Name : 11___Nerd_Kisses_Classt
Format: MPEG-4
File Size : 1.00 GB
Duration: 00:14:08
Video: AVC, 1920 x 1080, 29.970 FPS, 9920 kb/s
Audio: AAC, 2 channels, 237 kb/s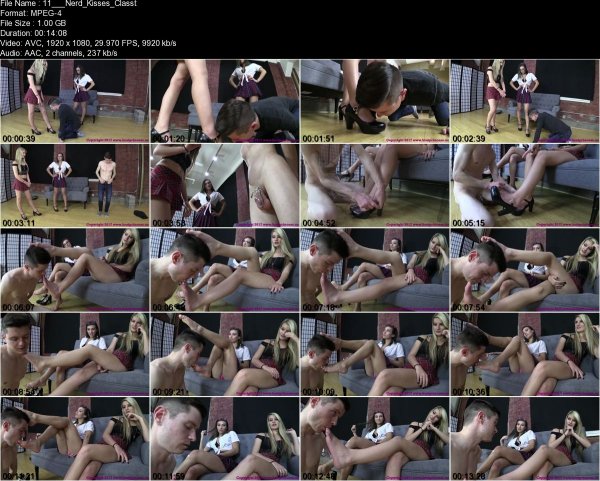 Download
Click on lock to get the link
Related news
Comments