Lady Scarlet - Prisoner of my feet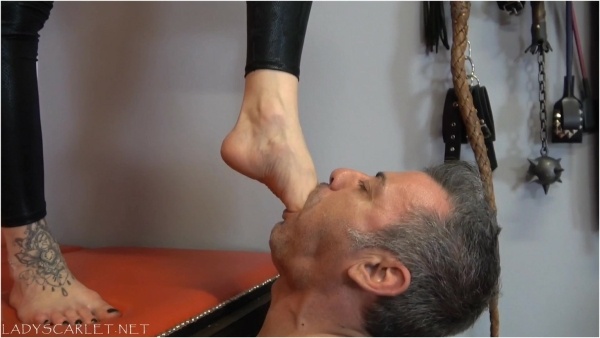 ITALIAN LANGUAGE
I imprisoned a slave locking him in a cage a few days ago and now it's time to have some fun with him. I approach in my high heels, studded red shoes, and as I settle down on the roof of the cage I let his head hang out through a crack. The head is enough, I only need his mouth that I want to penetrate with my feet. I let him take off my shoes and after a moment my foot is already at the bottom of his throat and is filled with saliva which in the meantime he can no longer control from the continuous retching. I continue to fuck his mouth even with both feet until he is completely dominated and understands that from now on he is a prisoner of my will.
PRIGIONIERO DEI MIEI PIEDI
Ho imprigionato uno schiavo chiudendolo nella gabbia qualche giorno fa e ora è arrivato il momento di divertirmi un po' con lui. Mi avvicino con i miei tacchi altissimi, scarpe rosse borchiate e mentre mi accomdo sul tetto della gabbia lascio uscire la sua testa da una fessura. Basta la testa, ho bisogno solo della sua bocca che voglio violentare penetrandola con i miei piedi. Lascio che mi sfili le scarpe e dopo un attimo il mio piede è già in fondo alla sua gola e si riempie di saliva che intanto lui non riesci più a controllare dai conati continui. Continuo ad abusare della sua bocca anche con entrambi i piedi fino a quando non è completamente dominato e capisce che da ora in poi è prigioniero del mio volere.
mp4 | 1920*1080 | 667,46 MB | 00:11:17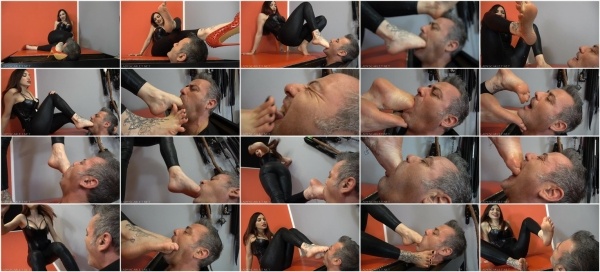 Download
Click on lock to get the link
Related news
Comments