Asian Cruelty - Goddess Katamura - I Am Going To Smack The Sickness Out Of You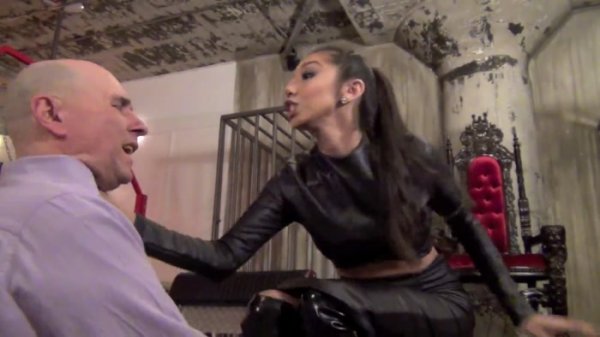 This pathetic slave has come crawling to me today desperately hoping to be cured of his perverse sexual needs. This fool simply can no longer function in his daily life without thoughts of devoting himself to me as my lifelong slave. No wonder, as I have systematically conditioned and trained him to do so for the past several years. Nonetheless, I will half heartedly entertain his feeble request and amuse myself in the process.
I am after all, the only woman who truly understands him and his sick and twisted fantasies. I do after all instill and nurture such afflictions in men on a daily basis, so is it any wonder that I too can save this poor pets soul? The Goddess giveth, and the Goddess taketh away HA HA! In my infinite wisdom, I have determined that the only cure for this pathetic creature, is a good hard face slapping. I will slap the sickness right out of him.
First I build up the perverse tension in his body via spitting my warm sexy saliva all over his face. I watch his arousal escalate as my spittle drips down the length of his face. I then twist and pull on his exposed nipples as his heart pounds like a trip hammer. When the time is right, I release the evil from him by smacking the snot out of him, literally. Over and over again, I relentlessly slap this poor slave silly, until his teeth are rattled and his head is spinning.
Voila, he is cured. Not really, but I enjoyed myself immensely. HA HA!
File Name : 11___AsianCrueltyHerPersonalScratchingPostGoom
Format: MPEG-4
File Size : 63.6 MB
Duration: 00:06:08
Video: AVC, 1280 x 720, 25.000 FPS, 1310 kb/s
Audio: AAC LC, 2 channels, 128 kb/s
Download
Click on lock to get the link
Related news
Comments