ClubStiletto - Mistress Paige - The Auntie Paige and kenny Ass Licking Chronicles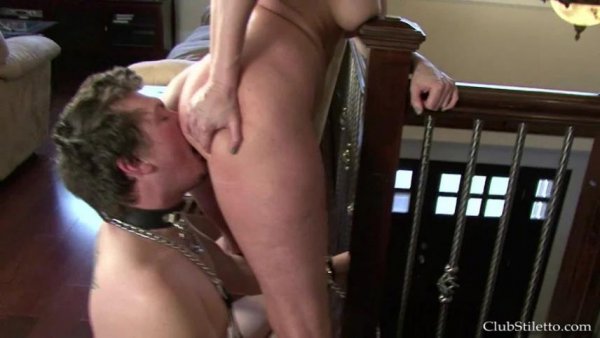 Kenny is being minded by his Auntie Paige while Mammy gallivants through Europe fucking young men. She needs a break from kenny even though she enjoys using him as her main fluffer and toilet. Now, with just the two of them in the house, poor kenny breaks down and confides in his aunt that something isn't right in the household. Auntie pries kenny for details. He starts to cry and says he can't even talk to the cute girl next door because all his attention has to go to Mammy. He says she makes him do strange things and he also feels he's too old for spankings but he gets them daily. He's so embarrassed that even talking about it is difficult. "You can talk to me about anything," Auntie Paige assures him. He starts to give her more details as the camera pans in close to their faces. Tears run down kenny's face as he recalls the time he was put in Mammy's bedroom closet. She called him out after he had quietly listened to her have sex and he had to lick all the cum out of her vagina. The camera pulls back as Paige says, "You make it sound like that's so awful," and we see that she's actually stroking kenny's very hard cock. "You have to understand, kenny, that we're a different family," she says to him. He looks at the camera, shrugs, and says, "That is true."
The scene rolls over and now kenny is on his knees behind a naked Paige who has her ass firmly pushed into his face. "That's right, kenny; lick that ass," she orders him. She pulls his hair and remarks that it's evident he's been well trained. "I did enjoy your little sob story," she tells him before she goes on to say that she was actually the one who trained all the women in the family how to treat men. Some amazing, close upward shots of Paige getting her ass licked and tongued follow. "I have lots of plans for you, kenny," she tells him. She says he will now be her toilet and her toilet paper. The scene rolls over and we see Auntie relaxing on a bar stool as she enjoys a drink. She calls kenny in on his knees to resume licking her ass. She has him on a leash and collar now. She pulls her big ass cheeks apart so he can really get his tongue inside her all the way. She has him move back so he can get a good view of her ass and crack (and pussy, too) before she tells him to continue. She has him ram her ass with his tongue and it gets her really turned on. She rises off the chair, gives kenny a little kiss. Then she really gets into it as she kisses him deeply and sticks her tongue down his throat. She lets him suck on her breasts and slaps him a few times just to make sure he knows who's in charge. She has him look at her pussy and asks if he wants to lick it. "Have you fantasied about fucking your Auntie Paige?" she asks and then lets him kiss the area above her pussy, and instructs him to beg to lick it. He sticks his tongue out to lick her pussy, but at the last second she pulls his head away. No pussy for kenny; he's an ass-licker.
The scene rolls over and this time we find kenny secured with handcuffs to the stairway banister. Paige has just used the toilet and now she's out to use kenny as toilet paper. "All the ladies in the family get their asses cleaned like this," she tells him, and when he starts to reply, she tells him to stop talking with his mouth full and to resume his duties. There's lots more licking in store for kenny and some more spectacular camera angles for the viewer. Auntie Paige accidentally blows a fart in kenny's face, and when he reacts negatively, she slaps his face and says he should be grateful. "It's up in the air as to who does a better job, you or Jerry," she says to him. Kenny is shocked as he had no idea his cousin was subjected to the same deviancies. "The next thing is getting you and Jerry together and humiliating you both," she says with a laugh and another slap to his face. As kenny continues to lick, Auntie says, "That's your sweet lover, kenny, my asshole. That's all you need; it's better than that little tramp next door, who you must never talk to again." She tells him to French-kiss her asshole and says that if he ever gets together with the girl next door, it will be when Auntie initiates it and it will only be to lick her ass and be her toilet. "And you'll be doing it while she kisses my lips," she adds. She pushes kenny's head back so she can sit on it and use him as her toilet; all the tongue fucking has loosened her up again.
It's now later in the day and Auntie finds herself horny again. She has let kenny out of the cage she now keeps him in so he can eat her ass on the bed while she sits on his face and makes him fight for air. She uses his nose to stimulate her pussy while he tongues her asshole. She moves from reverse to forward position and even lets kenny fondle her tits while he eats her ass. She sits full weight on his face and her big ass makes kenny's head almost disappear. As he licks her ass she says, "Yes, kenny, give it to your auntie." And if you like feet, there are some fabulous sole shots here. Imagine being there to lick her feet while kenny takes care of her ass. Wouldn't you like to be part of the family? Auntie Paige gets into some longer sits now until kenny actually starts to beg for mercy. She insists he take it, however, and warns him not to stop eating her.
Several days later, kenny is fully trained and we see Auntie Paige reading a letter from kenny's Mammy, while he lies on the floor by the couch doing what he does for hours each day: licking, kissing, and worshiping her ass. She shares the letter with him and mentions that her step-sister has been having a great time fucking a lot of hot young European men, and that she plans to bring one home with her. She can't wait for him to meet kenny so he can see firsthand how he does everything she demands. "By the way, kenny, whose schl1t do you enjoy more, mine or your Mammy's?" she asks. Kenny says hers, which makes her chuckle, and she asks him what Mammy might think if she heard him say that. Kenny says she would be mad and he would get a good beating, so Auntie reminds him what a good job they're doing to ensure he turns out to be a fine young man. "We're doing this for you," she says. She tells him she has several girlfriends coming over because she thinks he needs more practice with his toilet training.
A few weeks into his training now, Auntie Paige is impressed with kenny's progress and she has him back on the bed where she gives him a hand-job. He says he hasn't cum in 35 days and he's very erect. She says he has done well and she'll let him cum, but Auntie Paige has been known to change her mind. Will an orgasm or orgasm-denial be the best for kenny? Only Auntie Paige knows for sure!
Keywords: Female Domination, Free, Femdom, Club Stiletto, Mistress Paige, Mistress, Handjob, Ass Worship, Annilingus, Arse Licking, Assworship, Asslicking, Ass Licking
mp4
1920*1080
1943 Mb
00:25:24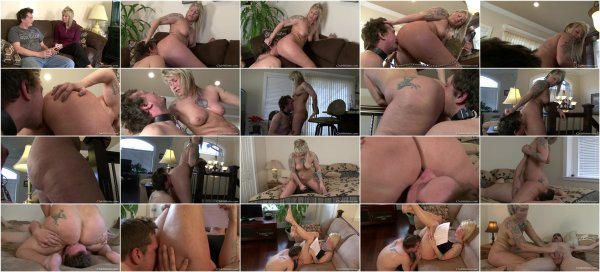 Download
Click on lock to get the link
Related news
Comments