Cybill Troy, Madam V - Rubber Fucker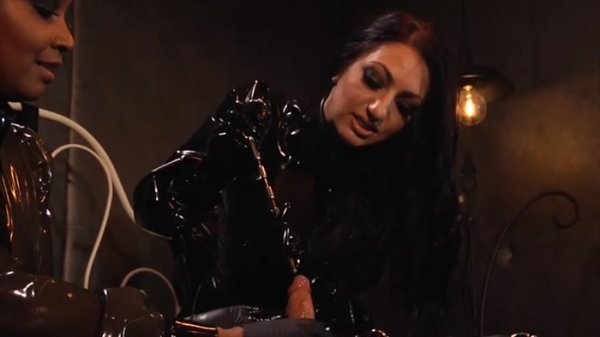 In the restrictive confines of the rubber institute, Cybill Troy has kept her patient confined overnight. Enclosed in a tight rubber body bag, with movement impossible due to the many tight rubber belts over the bag, her gimp patient is due for his first interaction of the day.
Cybill Troy strides up to the bed containing her gimp, accompanied by her assistant Madam V, the latex outfits of both Ladies swishing as they approach.
For the treatment they plan to administer to their gimp today, it is important to have access to the cock of the restrained and shivering rubber toy.
After a long cold night in the bag, neither Lady is impressed by the specimen of manhood that they tug out from the bags opening. Miss Troy decides that this floppy thing needs to be tightly tied off if it is going to be of any use to them. She expertly secures the gimps cock and separates it from the balls, tightly and painfully via the use of some rough abrasive rope.
With cock and balls now painfully and securely isolated Cybill Troy can begin the urethral sounding procedure, not before deciding that her gimp patient needs a dose of gas to subdue him for this treatment.
Starting off with just a single sound, which is worked deeper and deeper into the cock of their terrified, immobile subject, both Ladies take delight in the whimpers and moans of their patient.
Miss Troy decides that her gimp is becoming too accepting of the single sound being plunged into his urethra so upgrades the torment to a double sounding. She works the twin steel rods expertly into her gimps cock hole until, unable her gimps body is unable to resist the internal stimulation, bringing forth globs of cum, that of course she immediately feeds into her gimps compliant mouth.
After extracting several loads from the helpless depths of the gimps body Cybill Troy and Madam V once again increase the torment with the introduction of a huge, linked segment sound. This is repeatedly plunged deep into their gimps hole as both Ladies explain the dire consequences should more cum not be forthcoming.
With such a torturous procedure both Ladies are confident that their patient will not disappoint them but if he does, well, that's not really their problem is it? They have plenty more steel instruments to insert into their toys body should he fail them in their quest to forcibly mine the cum out from within. If the segmented sound proves less than effective the next stage can easily involve the horrifyingly wide, vibrating sound they have nearby……..
With her gimp restrained in a latex bag and under many tight straps, Cybill Troy knows its the perfect time to put her shiny toy under something even more restrictive, her amazing ass!
Miss Troy and Madam V will take this lucky gimp's breath away, quite literally and in the most divine way possible, via their latex clad hands, asses and lung conquering thighs.
Cybill Troy knows exactly how far to push her gimps limits, her perfect ass forming a total seal over his face, making it impossible to breath. She takes her toy to the brink again and again, slapping him back to alertness anytime she wishes.
Miss Troy and Madam V use their full weight, taking it in turns to repeatedly deny their gimp his selfish quest for oxygen, after all, his need to breathe, should come second to the need to satisfy and entertain these two powerful Mistresses.
In the third and final part of Rubber Fucker, Cybill Troy, accompanied by Madam V, continues to test the obedience and the durability of her favourite gimp.
The two cruel Mistresses have subjected their shiny black toy to a severe urethral sounding, followed by a double ass smothering but now its time to test how much abuse that gimp ass can handle.
With her gimp released from the confines of the latex body bag, Miss Troy wastes no time, she spits into his mouth then throws her gimp roughly back onto the bed where she and Madam V continue to fill the gimps mouth hole with their spit, forcing their latex gloved hands down his throat, causing more spit and gagging.
Satisfied that theres enough spit lubricating the mouth end, Cybill Troy flips her gimp over and begins opening up that ass with her hand, while Madam V doses the gimp, rendering him even more helpless.
As she begins fucking her gimp with her big red strapon Cybill Troy forces her gimps head down, ensuring that mouth will take every inch of Madam V's big black cock.
Stuffed at both ends there is no escape for their gimp and Miss Troy and Madam V deliver a pounding of ever increasing intensity. The cries and choking sounds their fuck toy emits, only serve to encourage the merciless fucking they are delivering. Cybill Troy chokes and fist fucks her gimps mouth, forcing him to swallow all of the spit and drool that is made.
She pounds that ass relentlessly, pulling her gimp up and back by his harness, so that she and Madam V can force both their hands down his throat.
The two Ladies then swap ends, Miss Troy pinning her gimp down under her gorgeous ass as Madam V pounds away, jack hammering her black strapon into the gimps asshole.
With her toy now nicely stretched out at both ends Miss Troy decides that the cocks they are using are too small, they just aren't terrifying enough, time to upgrade. She switches to a black cock of truly huge size, its girth is larger than her arm and is bowel destroying in length.
While Cybill Troy lubes up her monster black strapon, Madam V clamps the dosing mask over the gimps mouth, mercilessly dosing him, again and again.
Miss Troy forces the huge girth of the cock into her gimp as his cries of pain and terror increase with every inch of giant cock impalement.
Cybill Troy warns that she won't be satisfied until the entire length of her huge cock is deep within that gimp ass and heedless to the cries, forces inch after torturous inch deeper and deeper….
Keywords: Female Domination, Free, Femdom, Cybill Troy, Madam V, Dual Domination, Double Domination, Strapon, Anal Fucking, Anus Fucking, Ass Fucking, Dildo Fucking, Anal, Anus, Ass, Pegging, Strap-On, Strap on
File Name : 11___Cybill_Troy_-_Rubber_Fucker_-_Madam_V
Format: MPEG-4
File Size : 529 MB
Duration: 00:55:30
Video: AVC, 854 x 480, 30.000 FPS, 1201 kb/s
Audio: AAC LC, 2 channels, 123 kb/s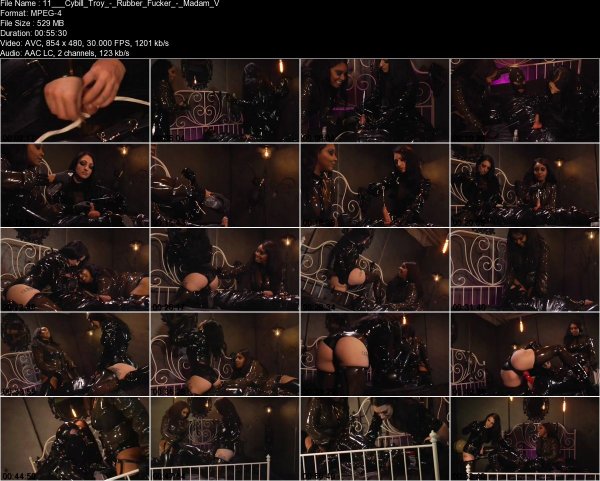 Download
Click on lock to get the link
Related news
Comments