ClubStiletto - Mistress Red - Jimmy ruined by Stepmom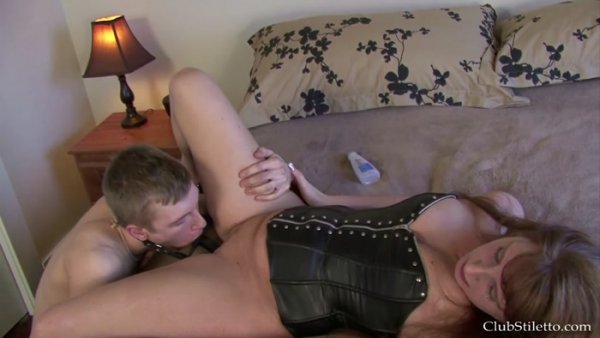 The scene opens with Red on the phone talking to her husband. She gets the bad news that his business trip is extended which upsets her greatly and she tells him that she has needs. Hubby says that his boy Jimmy can help her with things around the house; not exactly what she had in mind. After the call she checks her cam footage on her phone as she's trying to figure out why her panty drawer has been a bit messed up of late and figures hubby has been up to something. Much to her shock she sees pics of jimmy sneaking into the bedroom and not only rummaging through the drawer but actually sniffing her panties as well. She gets on the phone immediately and tells jimmy she needs to speak to him. The scene rolls over and jimmy walks in the room and asks her what's up. She asks him "have you been going in my bedroom?" Jimmy plays dumb and says no and then she tells him she has a hidden camera in the room. Jimmy turns a deep shade of red and when shown the picture can only hang his head in shame and beg forgiveness. Red asks him what his dad might think and jimmy starts to beg her not to tell him saying he'll do anything. "Anything?" she asks. She then says she could even post the pictures on his social media pages and now jimmy is frantic. How will he ever get out of this.
When mamma tells him to get on his knees and kiss her feet, he does it reluctantly, telling her it doesn't seem right but she gives him the ultimatum, do what she wants from now on or everyone will know his dirty little secret. Soon Jimmy is kissing her boots and mamma cuts right to the chase saying, "You've been thinking about licking my pussy too, haven't you?" Poor jimmy is literally stunned, shocked and aroused. Over the remaining 25 minutes of this video watch as mamma puts jimmy through his paces, kissing her boots, worshipping her feet, ass and pussy, she even strokes his cock with her feet and lets him hump them, face sits him and gives him a hot slippery handjob. While he's licking her ass she introduces the idea of toilet servitude and says he will be licking her clean from now on after she uses the toilet. Later we find jimmy on his knees in the bathroom smelling and licking her mess. "I want your tongue and nose up my ass" she tells him and once clean orders him to tongue fuck her hole. "I won't be using the toilet after today" she tells him, and then also reminds him to cut off contact with the neighbour girl she's seen him with recently.
Poor jimmy can only agree to anything she wants and Red is one hot kinky MILF and if hubby is going to be away from home all the time she will get all she needs from now on from jimmy. Soon she has jimmy using the mouth dildo on her pussy. "Well daddy is away I can still get pleasure" she says to the camera. "Show me how much you love me jimmy" she tells him as the mouth dildo pleasures her to orgasm. "You'll be fucking me all afternoon, you little bitch" she tells him. Once pleasured she decides to teach jimmy how to lick her pussy. "Does it taste good?" she asks him and he says he does. She tells him she will train him to do everything she likes and he will do it everyday, then she slides her ass onto his face and tells him she literally controls the air he breaths. Red is very demanding especially when it comes to having her asshole licked and tongue fucked and very graphic with her choice of words. In the end, Red decides to give jimmy a hand job. Just as he explodes she removes her hand from his hard cock, his orgasm totally ruined and him left laying there with cum all over the place. "Bad boys get ruined orgasms" she tells him, adding "but what they do get is to eat my sch1t everyday and eat their own cum." She scoops up his cum on her fingers and sticks them in his mouth.
This is a really hot family fantasy clip that you'll find impossible not to get off to before the full 29 minutes have passed but you can try.
Keywords: Female Domination, Free, Femdom, Handjob, Club Stiletto, Mistress Red, MILF, Mistress, Ruined Orgasms, Footworship, Foot Worship, Footlicking, Foot Licking, Pussy Worship, Pussy Eating, Pussy Licking, Cunnilingus, Chindo, Face Dildo, Facedildo, Annilingus, Arse Licking, Ass Worship, Assworship, Asslicking, Ass Licking
File Name : 11___kac-Jimmy-ruined-by-stepmom
Format: MPEG-4
File Size : 2.19 GB
Duration: 00:29:17
Video: AVC, 1920 x 1080, 29.970 FPS, 10.4 Mb/s
Audio: AAC LC, 2 channels, 317 kb/s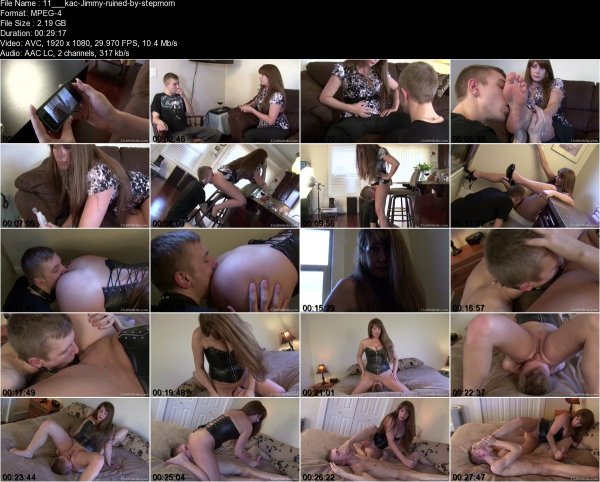 Download
Click on lock to get the link
Related news
Comments