Clubstiletto - Mistress Kandy - Milf Kandy, Aunty and the boys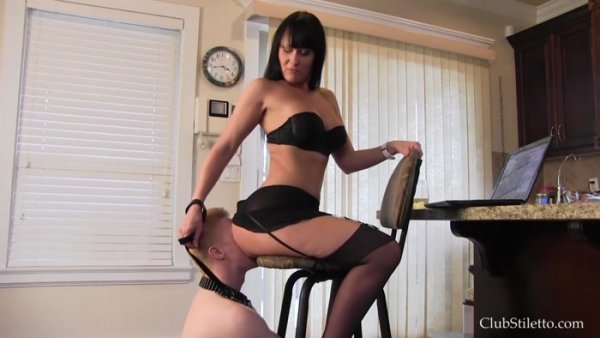 Hot MILF Candace walks through the front door and hollers up the steps at her boy Brett. She finds him goofing off in the living room again and she tells him to turn off the TV, they need to talk. She grabs him by the ear and tells him she has to show him something. The scene rolls over and she has Brett's computer on the kitchen island. "Brett, I've managed to unlock your computer" she says to his horror. Brett acts all innocent until Candace starts showing him FemDom sites he's been visiting, in particular Club Stiletto. "Ass licking, pussy licking, bi, foot worship, these are all things I'm seeing here" she tells him. Poor Brett, he doesn't know what to say. Candace really scares Brett by suggesting she will share her discovery with his father, just to insure she has his attention and will go along with what is about to happen. The old man is a real jock, all man, and knowing his son is watching videos of women dominating men would repulse him and he'd likely kick him out of the house all together. Brett pleads for mamma not to tell. She suggests calling hubby right then and there and then Brett says he'll do anything if she doesn't tell. "OH, you'll do anything?" she replies with a smile. She tells him she has looked over all the content and at first was angry and then she realized that the women he was most downloading videos of looked a lot like her. "This Mistress Kandy seems to be the one you like the most" she points out.
Brett breaks down and tells her that him and his friend Tony are always talking about how hot she is and those desires lead him to this site where her look-alike was found. "Umm, Tony is a hot young stud, I think you should call him over" Candace says. She then tells him that if she is going to keep this a secret from his father he needs to do everything she tells him to. She then has him kneel on the floor and says she wants her shoes and feet worshiped. Brett is in heaven and agrees with her that his place is to serve her anyway she wants. Candace calls Brett a good little boy and smiles thinking about what the future might hold. Looking at the site again Candace says she is especially interested in all the videos on toilet training. "You will now always be licking me after I use the toilet" she informs Brett.
Candace decides to call her hubbies sister Holly to come over and tells Brett he will be worshiping her too including toilet service. After securing Brett to a stool and making him lick her ass and then using him in the bathroom to lick her clean after using the toilet Holly arrives. The two ladies dressed in only lingerie are soon relaxing on the bed having a glass of wine and looking very sexy. Candace explains the situation and Holly is totally on board.
File Name : 11___lma-Milf-kandy-auntysdjoys_saf_2
Format: MPEG-4
File Size : 2.85 GB
Duration: 00:37:55
Video: AVC, 1920 x 1080, 29.970 FPS, 10.4 Mb/s
Audio: AAC LC, 2 channels, 317 kb/s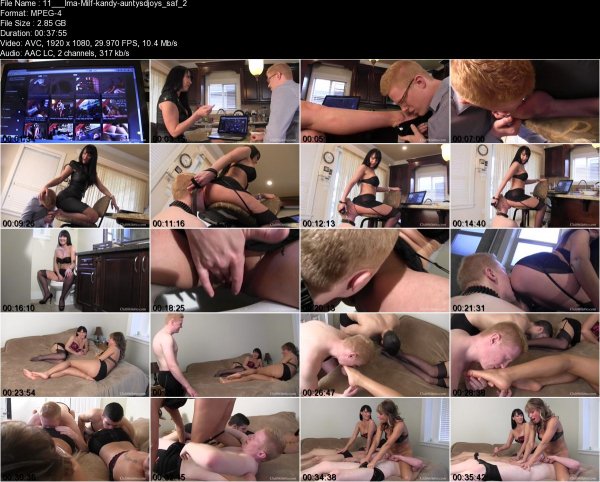 Download
Click on lock to get the link
Related news
Comments