Domina Planet - Maitresse Madison - World Class Ass Kisser - Face fucking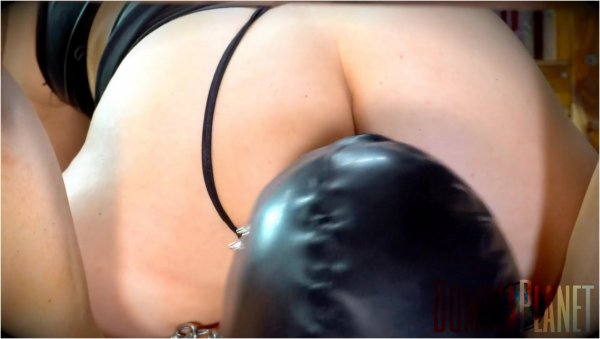 Maitresse Madison is training Her Ass slave in proper Ass Worship technique. He has attained the status of "Brown Noser", but has failed so far to reach the higher status of Ass Kisser, which he had promised Her would attain within the first two weeks of his induction training. Maitresse confronts the slave while he reports on his knees to Her. She tells him:
"You've done a decent job as a Brownnoser, but you've been a miserable Ass Kisser! Your chastity time will be increased by another two weeks unless you pass today's test. Now start by lightly kissing each cheek gently. Then work your way to the sweet hole."
He starts kissing each cheek but is too aggressive and She gets angry and crops him, warning him to slow down. He does, and tenderly and lovingly kisses each round ass globe, over and over, back and forth, as She juts Her ass out and smirks at him; on his knees, in bondage mittens, kissing Her ass like the pet She is ruthlessly making him into.
"Keep kissing, slave!" She yells at him periodically, warning him to speed up and slow down, harder or softer. Then She tells him:
"I want you to now, slowly, and gently, like a lover, gently kiss my sweet little asshole. Plant a nice, big smooch on it, like a good puppy"
He leans forward, closes his eyes and gently kisses Her sh*t-stained anus. She orders him:
"AGAIN!"
He of course complies. She then tells him that they will be moving to the bed for the more advanced portion of the training. 
We then open with the slave trussed up on the bed on his back, hanging by his mittened hands and with the collar and leash still on. She is sitting directly on his chest, with Her sweet ass facing him. She tells him to commence and crops the sh*t out of him to start. He does, but after a few seconds She firmly sits down hard onto his face, cutting off his air and sight. She yells at him:
"Don't you fucking stop kissing my pretty ass and asshole! Keep kissing, bitch!"
HE can barely move his mouth or his head, but you can see him struggle to try and do so, but She just wiggles Her ass and slams down harder on his face. As soon as She thinks he is about to pass out, She will let him up, gasping and coughing and begging for mercy. There is absolutely NONE; as a matter of fact, She is highly annoyed at his lack of enthusiasm and keeps cropping him viciously, until very real red welts start to appear all over his oxygen-starved body. He struggles, but with his hands strung up he really can't move his head away at all from Her ass swallowing his head. She starts making him worship the hole directly, the kissing giving way to deep licking and cleaning. This appears to stimulate Her bowels - as She appears to want to fart but then suddenly gets up and tells the slave that She will be right back, after a bathroom break, She will REALLY need his services.
"I'll be back in a few slave, with an extra special treat for you!"
mp4
1920*1080
275,76 MB
00:10:41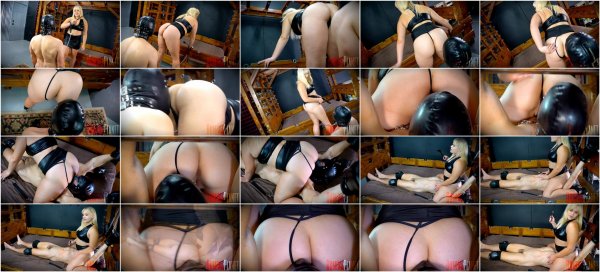 Download
Click on lock to get the link
Related news
Comments