HumiliationPOV - Lucid Lavender, Mandy Marx - Are You Addicted To Addiction? Can't Stop Touching Yourself?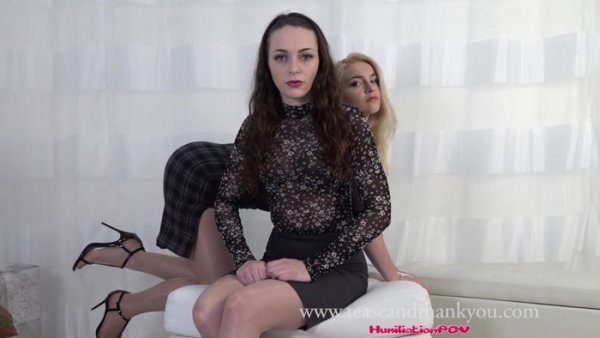 Mandy Marx and introducing Dr. Lavender! This clip is for those of you who are addicted to addiction and can't keep your hands off of your cock. Dr. Marx and Dr. Lavender, your psychoanalysts, have developed some new techniques to help you. They involved new mesmerize techniques based on mind confusion and reverse psychology. This clip is a real mindfuck but it may just help you, or, it may make your addictions far worse.
We have a little problem here, you've been coming for awhile and the traditional treatments aren't working the way I anticipated. To some degree you've gotten worse. I want to try a new direction, it can be a little intense, but I think it might help. I will be working in partnership with Dr. Lavender, she's developed a new process. It's time to treat this more seriously and more aggressively. So I'm going to bring her in and show her your records. She agrees that we should try her new methods as you do not seem to be getting any better. Your obsessive behavior and need for release have grown way out of control. And your addictive behaviors have gotten dangerous. You're addicted to addiction. You're a really bad case. We're hoping your addiction isn't too deep for my methods to work. Now Dr. Lavender is going to try her new mesmerize methods on you.
"Take a deep breath. Just relax. Clear your mind. Let me take you deep under my spell, just listen to my induction and let yourself go. I know we're nice to look at and I'm sure with a mind like yours it brings up all sorts of thoughts, but just let them go. Let all these sexualized thoughts exit your head. All that exists are my eyes and my voice. Can you feel your mind clearing? Perfect. Breathe deep and keep letting your mind empty, let me fill it up now.
What are you thinking right now? Is it empty? I doubt it is with a mind like yours, I'm sure you have many thoughts racing through your head. But just ignore them. I know you want to get better, you're here seeking help. And we're here to help you, we're here to wipe all of those dirty hyper sexualized thoughts right from your head. You don't want them in there. Why would you? They make you so lost throughout your day. How many hours have you lost playing with yourself? How many dates have you not gone on because you just wanted to stay home and play? You're weak and you're a victim to your addiction. You're a victim the feeling of your hand on your cock. You really can't help yourself. I'm trying to make you better and you're just giving in to your simple desires. I know you're better than that."
"Just relax. You don't always need to be playing with yourself you know. Even though it feels so good. That feeling that you ride, and you keep getting higher and higher until you're right there and you can't help releasing. Can you? Just like you can't stop yourself from playing right now. Why don't you let me help you? We're here to help you fight that addiction. It's ok to feel lost, you're supposed to feel lost, I'm supposed to make you feel lost. But what you are getting lost in? Are you getting lost in your sexualized thoughts or are you getting lost in my eyes and my voice? You just want to touch yourself, I know you do, but you're not allowed. Don't you know what you're here for? You're not here to touch yourself you're here to get better. Is it really that hard not to? It doesn't have to be so hard, you're making it hard for yourself. But don't worry, you'll get better, it just takes time."
"But you might be too far gone. How does it feel to be a slave to your addiction, to be a slave to your hand? When was the last time you actually fucked a woman? You're just too caught up in your addiction, aren't you? But you're better than that, aren't you? Up until this point I've given you mixed messages about who you could be. I wanted you to answer them to yourself. Up until now I've given you multiple options. I've let you decide whether you're going to be a weak jerking m o n k e y boy, or a professional, if you can resist the urge to stroke. I've let you decide in your own head. So what have you been doing? What are you going to do right now? Can you stop stroking? Can you stop that incessant motion that's been plaguing you since puberty? It's all up to you, you know, I can only help so much."
"Just stop, is it really so hard? It's up to you whether you keep doing this for the rest of your life. Is this really how you're going to spend your life, you hyper sexualized little boy? Is it really that hard? It shouldn't be that hard. Are you getting hard now watching us? Is watching us making it harder for you to keep your hand away? You just can't keep it away, can you? You're so weak. Don't disappoint us, don't objectify us, show us how strong you are. We wanna see you improve, we're here to help you. It doesn't have to be as hard as you're making it. I mean look at me, I have Dr. Marx all over me, touching me and I'm still poised. So why is it so hard for you to keep your hand away from yourself? You're doing this to yourself."
"Just the word addiction, just hearing it coming out of my mouth is triggering for you, isn't it? It makes your cock twitch. What is so wrong with you that you just can't stop? Why are you absolutely helpless to your addiction? You have to touch yourself, don't you? You can't help yourself. You're just a weak little boy. It's preventing you from living your life fully because you just can't stop playing with yourself. You can't stop, you can't. You need to learn how to stop playing with yourself all the time. Sexualizing every situation. It doesn't need to be like that, you can be stronger. You're making it hard for yourself. We're here to help you. I promise. (Mandy begins to hump and grind Dr Lavender.) "Are you listening? Prove to us that you're stronger than your addiction. You can't watch this video without stroking. You can't get through a session without playing with yourself."
(Your mesmerize session ends and you begin to come back.) "Your eyes look glazed over, are you ok in there? How did you find Dr. Lavender's process? Did you enjoy it? Do you remember anything of it? Do you feel better? Can you go without touching yourself? Are you still addicted to addiction? Ore are you more addicted than ever before?"
Keywords: Female Domination, Free, Femdom POV, POV, Mind Fuck, Mental Domination, Mesmerize, Hypno, Hypnotic, Hypnosis, Powerful Woman, Masturbation Encouragement, Jerk Off Encouragement, Jerk Off Instruction, Teens, Mandy Marx, Lucid Lavender, Young Mistress, Masturbation Instruction, Jerk-Off Commands, JOI, Instructions
File Name : 333__lavendermarx
Format: MPEG-4
File Size : 1.16 GB
Duration: 00:16:06
Video: AVC, 1920 x 1080, 29.970 FPS, 9987 kb/s
Audio: AAC LC, 2 channels, 317 kb/s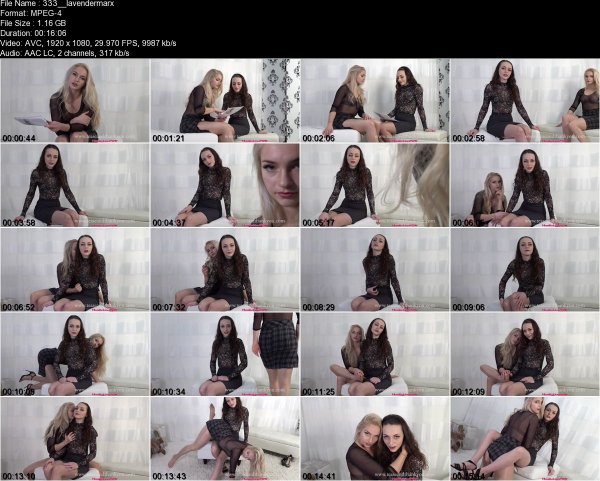 Download
Click on lock to get the link
Related news
Comments