Angel The Dreamgirl - Reflected In You
Your day off! You rested so sweetly and your wife did not wake you up. You opened your eyes and saw her dressed in classic nylon fully fashioned stockings and business clothes. She is an elegant, corporate business lady who wears stockings or pantyhose on weekdays. You love to watch her; your cock became hard. She notices you were awake and gave you her charming smile. She has to go to work, as will put on her red pencil skirt, white satin blouse and her red lacquered high-heeled shoes. "Youre so hard" - she whispers while smiling slyly at you while she continued to get ready. You stroked your cock while watching her legs in the sheer nylon. Her legs tease you… she knew you like it.
She put on her skirt then slipped her panties off her feet... "Catch my panties, dear" - she said as she teases you in sexual positions. As she was about to leave, she naughtily said, "Honey, Ill be gone but my panties will be here – with you" while smiling and applying shiny wet lipstick to her lips. You cannot let her go without morning sex…, you want to see her body writhe and whimper during orgasm… she has never left home without morning sex… you know she likes it... and you know you love it.
You get out of bed and approach her so close that your hard cock rubs against her skirt and her satin blouse… you caress her breasts through her satin blouse and kiss her neck… you gently touch her clit and dip your finger in her invitingly warm and moist pussy. Shes so fucking horny! (Although you know she was already aroused by seeing your big waking cock).
You fuck her in different positions. She leaves her soft blouse and red pencil skirt on… you like it… sexy clothing makes you even more horny! You have sex on the bed… your stiff long cock penetrates her womanly treasure deeply… all the way in! You love seeing her spasms, tremors and hearing her gasps as an orgasm overtakes her gorgeous feminine body. This must have been the strongest and most overwhelming orgasm she had in the last 5 days.
Her body was totally satisfied… but her sensual womanly desire wanted more… you felt your hot semen backed up all through your long shaft while yearning to launch on her pretty face. Her eyes looked deeply into yours as she whispered, "Honey, I want your warm white liquid; I want to feel it and play with it". That was way more than enough for your body to lose all control… you shoot 4-5 huge jets of sperm on her face… the sensation of feeling brim full of your own semen the entire time you felt its hot spurts leaving your cock was so amazing… Alas, you were both happy… you made her day… she left for work… and you still had her panties.
mp4 | 1920*1080 | 2,27 GB | 00:22:40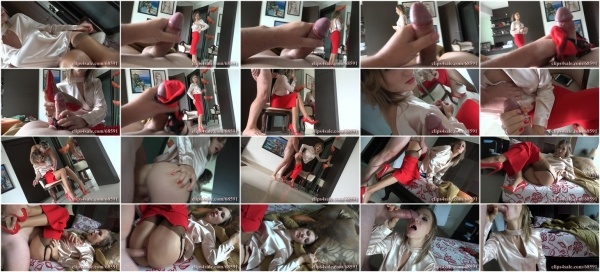 Download
+10% DAYS OF MEMBERSHIP KEEP2SHARE.CC
Click on lock to get the link and watch online
Related news
Comments