Cybill Troy, Ariana Chevalier - Invasive Rubber Clinic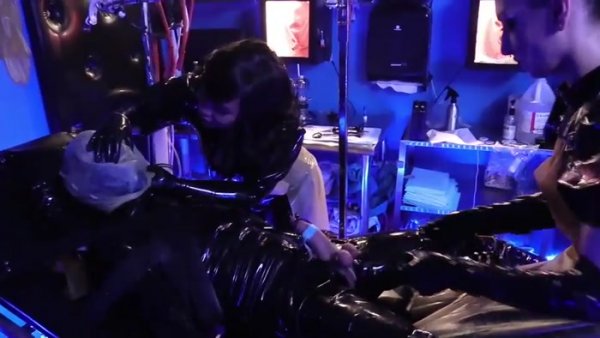 Within the walls of the legendary NYC Rubber Studio, many extreme and extraordinary things can occur, none more so than a full rubber treatment while in the perverse care of Cybill Troy and Ariana Chevalier.
Cybill Troy has decided its time her favourite gimp should experience the ultimate test, undergoing a harsh rubber treatment by not only herself but also her DomMom, Ariana Chevalier.
After a short warning from both Mistresses about the nature of the treatment ahead, Miss Troy installs a large electric butt plug in her gimp before he is firmly strapped down.
With gimp fully secured, the two wonderfully latex clad Mistresses begin their enjoyment with a relaxing smoke. A smoke made more entertaining as they filter their cigarette smoke through the lungs of their helpless gimp. Instructed when to inhale, when to hold and when to finally exhale, the gimp has no say regarding its respiratory system.
This theme of absolutely zero choice continues with increased intensity as Cybill Troy and Ariana Chevalier move on to explore their gimps responses to extreme electrical invasive therapy. This therapy will be delivered via the terrified gimps cock, balls and ass.
While Miss Troy attaches the electro kit to her gimps cock, Mistress Ariana readies the electro sound. They opt to have the sound already turned on before it is plunged relentlessly deep into the gimps urethra. The suffering this causes only serves to spur both Mistresses onward, increasing the power levels to the gimps butt plug and cock attachments.
As the terrifying invasive electrical therapy continues Miss Troy reminds her gimp that this is only the warm up in what will be a truly unforgettable extreme rubber treatment. Even more perverse torments and suffering still await every trembling part of their gimp patient……
In this, the second part of Rubber Treatment, Cybill Troy and Ariana Chevalier continue their rubber reign of perverse treatments and tortures, with Miss Troy's favourite gimp, helpless as their patient.
Satisfied that they have warmed up their rubber patients lungs, mind and cock hole, the two latex clad surgeons of suffering, decide that the electro sound they have been plunging down the urethra of their gimp is no longer cruel enough. Mistress Ariana decides to upgrade to a larger and more formidable electro sound. More fun for them, more torturous for the patient.
This new larger sound can be secured firmly in place, thus it will stay deep down inside their gimps cock. Now that this new item of electro inducing pain is secured firmly in place the Ladies can really increase the voltage, terror and their own entertainment.
As new increased waves of pain, fear and sometimes pleasure surge through their gimp, Cybill Troy and Ariana Chevalier concentrate on having fun with the un-electrocuted end of their gimp.
Miss Troy explores far down the gimps throat with her latex gloved hands, then She and Miss Ariana deliver more of their delicious spit into the waiting gimp mouth hole. They then dose their patient once more before sealing off any chance of successful breathing by clamping their latex gloved hands over every hole capable of trying to draw breath. All the while both of them take delight in explaining how hopeless a situation their squirming rubber patient is in and its only going to get more intense and extreme.
Cybill Troy and Ariana Chevalier finally release their hands to allow the now gasping gimp a few precious breaths of welcome air. This respite is to be short lived though.
With the electrics increasing in intensity and the effects of them now very evident on the struggling gimp, Cybill Troy knows its time to notch up the terror to a yet higher level. A transparent hood that will allow only tiny amounts of air in and out is fitted onto their twitching, electro-conductive gimp patient. Both Ladies are delighted with the look of the hood as it inflates and deflates in time with the panicked breathing of their gimp.
Cybill Troy decides on a whim to carry out a thorough anal exam of her gimp, so tasks Miss Ariana with overseeing the gimps breathing, while also ensuring that the gimp has to watch Miss Troy's exam.
With Miss Troys well lubed latex gloved hand deep inside the gimps ass, electro sound deep down the urethra, electrodes on the cock head and balls, breathing restricted and the current turned up high, its only a matter of time before all these things will become to much for the Ladies Gimp patient. The only remaining question is whether these two latex clad cruel surgeons will allow their gimp to make a mess of their nice medical equipment and if he does, what will be the price they will make him pay for this….
In the third and final part of Rubber Treatment, Cybill Troy and Ariana Chevalier continue with their perverse treatments and evaluation of Miss Troy's favourite gimp.
With their previous treatments proving to be highly effective on their patient and also very entertaining for both Mistresses, Miss Troy and Mistress Ariana opt for a teasing and tortuous final treatment to test their gimp with. Mistress Ariana's serious kit.
The Ladies have their gimp, still restrained, fitted with the attachments to the serious kit. With the gimps nipples being tormented by the Serious Kits nipple pumps, they lube up the cock attachment, all the while explaining the manner of this particular predicament to their helpless patient.
Before she fits the cock attachment to her gimp Cybill Troy decides another dosing is required for her patient. She wants his mind and cock to be equally confused, frustrated and tormented.
With cock pump attached Miss Troy and Mistress Ariana explain to their gimp that the machine doesn't so much milk the cock as tease it. Relentlessly. They know their gimp is desperate to cum and this desperation can be increased and used against him.
Cybill Troy tells her gimp, if he is lucky enough to eventually cum, the machine won't stop. It just keeps going and going.
To really drive home the point and increase the cycle of torture, Miss Troy fills the gimps ass with an electro butt plug. She and Mistress Ariana delight in increasing the electrics, until their gimps ass is being fucked hard by the plug.
Happy at the level of their patients predicament and with oh so many things being done to it at the same time, Cybill Troy and Ariana Chevalier decide to celebrate with a glass of champagne. Leaving their gimp helpless. They might pop back later to check on the gimps progress, who knows what they might find.
Keywords: Female Domination, Free, Femdom, Dual Domination, CBT, Double Domination, Cybill Troy, Ariana Chevalier, Latex, Rubber, Milking Machine, Rubber Fetish, Tease & Denial, Tease, Denial, Teasing, Medical Fetish, Forced Male Orgasm, Forced Ejaculation, Forced Orgasm
File Name : 11___Cybill_Troy__Ariana_Chevalier_-_Invasive_Rubber_Clinic
Format: MPEG-4
File Size : 780 MB
Duration: 01:02:44
Video: AVC, 960 x 540, 30.000 FPS, 1500 kb/s
Audio: AAC LC, 2 channels, 231 kb/s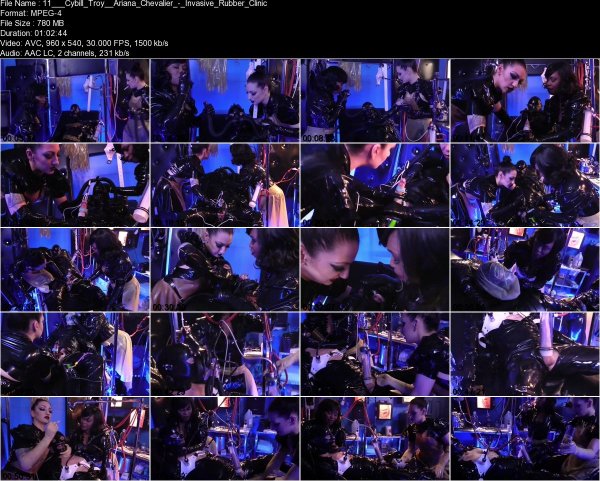 Download
Click on lock to get the link
Related news
Comments