GODDESS MAYA LIYER - Shoe Whore Gets Schooled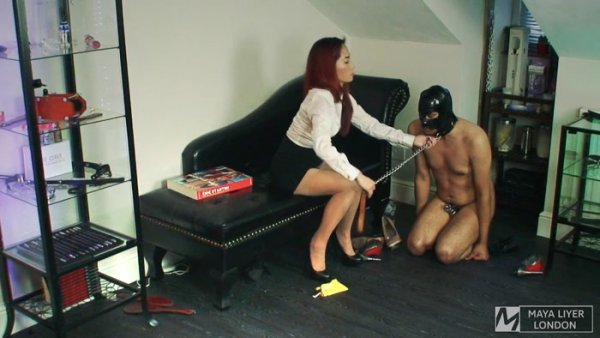 I retire to my torture room up in the loft after a hard days work at my office, terrorizing the minions to find one of my chaste, cock locked house slaves cleaning some of my shoes as instructed. My only thoughts at this point are to stretch out on to relax on my chaise lounge, maybe abuse the little worm verbally while I watch it clean my shoes, I like to see them trembling in fear.
However the effort being put in is clumsy and the attention to detail is sub standard which annoys me greatly, a sharp schooling is needed to bring him up to the standards that I expect, and if I am honest I will enjoy dishing out some punishment after a hard day…of dishing out punishment.
I slap the bitch silly and spit in his eyes, before making him sniff, suck and lick the shoes I am wearing clean clean. I then make it lick the shoes that it has failed to clean properly as it grovels for forgiveness, it knows that physical punishment will follow, but not before I use my heels to tease and torment its locked up cock. I love slapping the exposed balls of a cock in chastity and my long nails are not just there for aesthetic purposes, I keep the sharpened for pinching exposed balls until i hear the screams and pleading for mercy.
This bitch will learn to be addicted to my shoes and pay them the attention they deserve, I pile all of them up on its face, covering it completely in shoes and stuffing some of the heels in its mouth, it will breathe the scent of my feet while I now take a leather paddle to its exposed balls, then finish the job with it cowering over my knee for hand spanking and paddling, this message will be hammered home.
Then the whore is leashed and forced to lick and suck my shoes and sweaty nylon clad feet while I tug at the leash, slap and spit before dismissing it to go and run me a well deserved bath.
FEMDOM NEWS!!! I have a brand new website exploring the artistic side of my work
Visit my Youtube page for free videos and subscribe to my channel click here
File Name : 11___GODDESSMAYALIYERSd
Format: MPEG-4
File Size : 1.74 GB
Duration: 00:29:10
Video: AVC, 1920 x 1080, 25.000 FPS, 8114 kb/s
Audio: AAC LC, 2 channels, 418 kb/s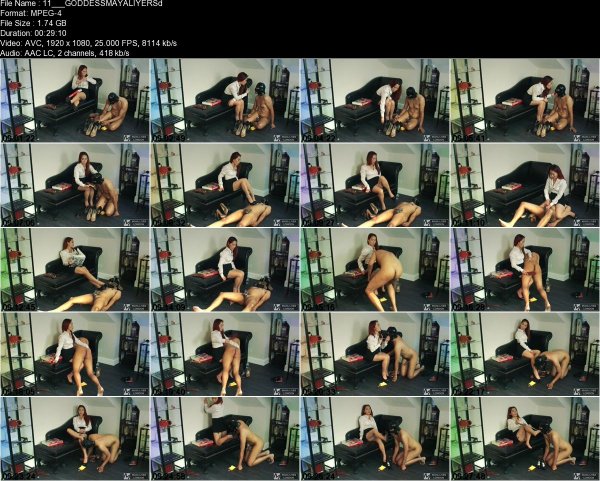 Download
Click on lock to get the link
Related news
Comments