The Mean Girls - Goddess Platinum, Goddess Tina - Ballbusting Tryout # 217 (1080 HD)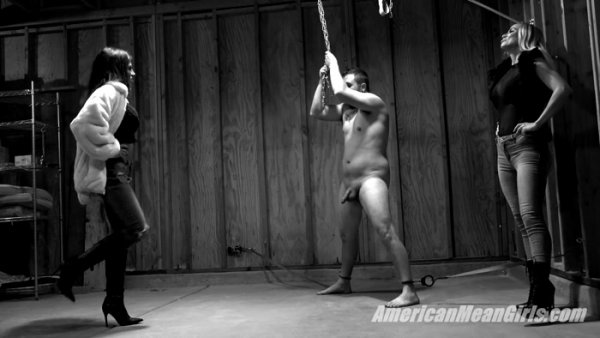 This slave wrote in to us on our Fetlife profile, begging to have its balls kicked in by The Mean Girls. (Can you blame him?? lol) And he is local, so after he sent in his ID, we brought him in. He crawls into our garage at the Mean Girls Desert Punishment Compound and is instructed to sign the appropriate paperwork at our feet. Then he is collared and leashed, and walked over to the area where his balls will be "put to the test" to see if he can make a good ballbusting video slave for us! And YES, this is 100% real! Your heart would be pounding out of its chest at this point, wouldn't it, slave? Of course, most of you don't have the balls to follow through and do this in real life…so enjoy this video of someone with REAL BALLS.
Tina and I put him through his paces. We SLAM the pointed toes of our boots between his legs over and over. We command the slave to hold on to the chain above its head for dear life and remain standing with its LEGS SPREAD for as long as it can take it! The slave is having a hard time staying up, but it manages…for a little while.
Me n Tina have SO much fun trying to BREAK this loser and bring it to its KNEES- where it belongs! It hangs onto the chain above its head for dear life, just trying sooo hard to be obedient and stay up for us no matter how much pain it is obviously in.
But soon, it is on the floor, feeling around for its own testicles to make sure they are still there HAHA!
Tina and I decide to "up the ante" and "see-saw' kick him now! (That is what we call rapid-fire kicks, with one of us in front of him & one behind!) Pretty soon the slave doesn't know where the kicks are coming from…he just knows they HURT LIKE HELL…and he goes down again! YAY! At this point, we decide to start moving the slave into different positions that we think our fans will want to see him get kicked in. We just want to see if he can take a pounding into his testicles from all angles… (Me n Tina talked later about how funny it is – and FUN! – to be able to just literally put some loser into any awkward position we feel like, and then run up full speed and KICK IT IN THE NUTS AS HARD AS WE WANT! LOL)
To be honest, this slave isn't really a "hardcore pain slave" in our opinion- but it just TRIES soooo freakin hard to please us with its suffering. Which is what we LOVE! It goes down over & over and is in REAL AGONY. But it keeps getting back up and spreading its legs for us whenever it is COMMANDED TO- and any good slave should OBEY ITS MASTERS! (No matter HOW much pain it is in!)
One of our best ballbusting clips, actually! (Even without any sound!) We will be using this loser's balls again soon…
Do you think you could come here and handle kicks like this, loser??? OK, then PROVE it!
File Name : 11___TheMeanGirlsGoddessPlatinumGoddetion
Format: MPEG-4
File Size : 2.26 GB
Duration: 00:19:34
Video: AVC, 1920 x 1080, 29.970 FPS, 16.3 Mb/s
Audio: AAC LC, 2 channels, 192 kb/s
Download
Click on lock to get the link
Related news
Comments