Sin Sisters - Melisande Sin - A Footjob from Hell Part 1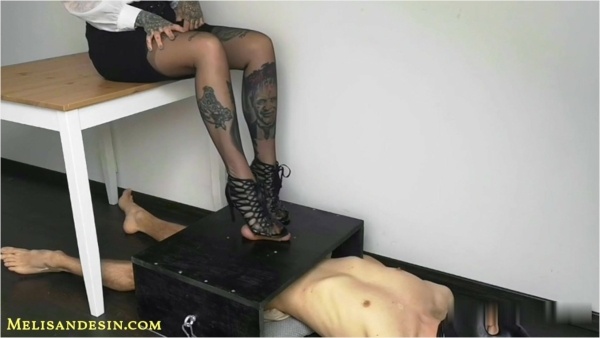 Miss Melisande has decided it's time for Her slave's monthly milking. Her slave is kept in chastity and only let out once a month when Mistress is in the mood to play with Her slave's cock and balls. Mistress has immobilized Her slave by tying him a cock box and his cock and balls presented to Goddess from the tiny hole in the cock box. Being tied and his cock and balls stuck, he has nowhere to go but be at the mercy of his beautiful Goddess. Slave is feeling excited that finally the day has come when he gets to cum and enjoy but he has no idea what Mistress has in store today.
Mistress starts by ordering the slave to greet Her by kissing the bottoms of Her sexy high heels. Slave is bound to the cock box and therefore having a tough time reaching the soles of Mistress' heels but Mistress loves this amusement and makes Her slave work on his stomach muscles to reach and kiss the bottom of the heels. Once the greetings are over Mistress moves onto pressing and rubbing the slaves cock and balls with the soles of Her heels. She teases and taunts the slave by saying "You scared I am going to crash them with my heels".
Mistress then teases the slave by asking if he likes Her heels and stockings, She is now standing on the cock box and towering over Her slave and intensifies the pressure on the slave's cock and balls making the slave moan with pain. She is enjoying tormenting Her slave, hearing him moan and cry with pain from Her heels. Slave is already begging Goddess and utters the word "Please" to which Mistress replies that She is not even stepping on them with full and is just lightly tapping. She finds the slave laughing and says she can step on it full . The slave is now starting to beg for mercy, but Mistress says She has not even started him. She humiliates Her slave by asking if he is a pussy who can't even take Mistress lightly stepping on his dick with Her heels. Mistress is now starting to increase the intensity of rubbing and pressing the slave's cock and balls with Her heels.
Mistress taunts Her slave by saying no one likes pussies and why would She have a slave that is a pussy and he better get used to this as this all he is going to get in terms of pleasure. Slave is now continuously making sounds and moans and Mistress does not like it and asks it to stop or he will be gagged. Slave is trying to pull his cock down from the cock box and Mistress pulls the slave's cock and balls out by pulling on his balls like it's a piece of meat. She now rubs the cock swiftly with Her hands and then suddenly stops and asks if he would like Mistress to take Her shoes off. Mistress knows Her slave can't take the shoes off but still taunts him by saying he can't them off as his hands are tied. Mistress loosens Her sexy heels and dangles it over the face of Her slave and then tosses it on Her slave's face. She is thoroughly amused with Her helpless bound slave trying to hold Her shoes and trying to smell them. Mistress further humiliates by calling him "You pathetic little whore".
Slave is now begging Mistress to smell Her feet but Mistress denies the request and orders slave to keep lying down and smelling Her feet is a privilege which he hasn't earned today. Mistress then touches the slave's hard throbbing cock slightly and teases him by showing Her feet in stockings but all he can do is lift his head to adore Mistress' feet from far and see Her enjoy his torment. Mistress now moves onto hard foot slapping/stomping of Her slave's cock and balls. She rubs slave's cock in Her stocking feet and and tells Her slave that She is only tapping slave's cock lightly and he has to take it. Slave was thinking that it would be a nice cum night but Mistress had other plans and now stands with full on Her slave's balls making the slave scream in pain. Mistress says She has no reason to be nice to him as he is nothing but a pathetic little slave and should be thankful for touching his pathetic dick with Her beautiful feet.  
Do You want to see how Mistress takes off Her stockings and continues the of Her slave's cock with both her feet and makes him cum all over Her feet and make him eat it all up, then come back and buy Part 2 which will be released soon. It will surely be a foot job Her slave and you will remember for a long time.
mp4 | 1920*1080 | 700 MB | 00:11:53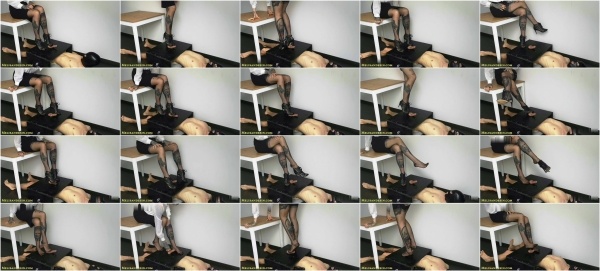 Download
+10% DAYS OF MEMBERSHIP KEEP2SHARE.CC
Click on lock to get the link and watch online
Related news
Comments