Mistress Gaia - 1000 Kicks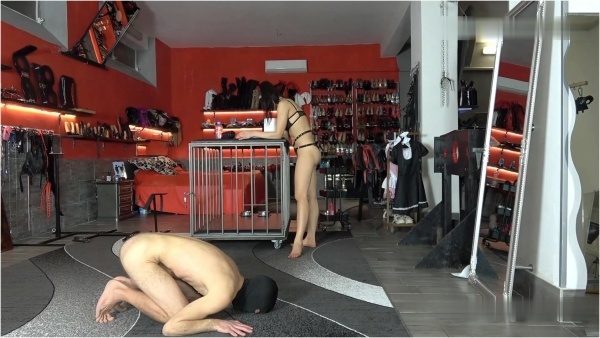 ITALIAN SPEAKING
CUSTOM REQUEST - Mistress Gaia has decided to enter the history of ball kicking by right and making an incredible video, which will lead her to obtain a Guinness World Record.
The rules for winning the coveted prize are as follows:
1000 kicks in the balls.
Seamless video and use any technique, as long as the slave is standing. You will be able to choose the counting method that will suit you best, but you will have to give regular (numerical) updates on the status of the test. She will be able to talk about anything during the test and deal with it by alternating any mood (ironic, angry, friendly, pissed off, etc.) If she needs it she can use slaves to support / block the slave and make him keep his legs open. She can allow the slave to use ice or other to ease the pain. You can allow yourself a short break
Mistress enters the scene, a slave ready in the cock table and with a second camera. He frames her as she approaches, when she has climbed onto her table, with part of her from her face and descends down her body to her feet. She starts to stroke him as usual, then she turns and strokes him showing the sole of the foot to the camera, then she turns again and makes him cum, and continues pushing hard with your toes over the cap. Use all the toes one by one, and then climbs on tiptoe with all her weight on his cock supporting herself with the trapeze.
When she thinks that it is enough she makes him stand up and starts her business according to the rules written above. Once the test is over and she has achieved the record, she will be so proud and euphoric of the undertaking that she will try to celebrate by giving her slave another very painful footjob. If the slave fails to cum she will tell him: "I know, after 1000 kicks in the balls it is difficult, I make you film 5 minutes and then I come back" and she will laugh. She comes back and gives him a footjob until he cums, then she takes the sperm with her feet and shows it to the slave while she tells him everything that goes through her mind after such an experience...  
ITALIAN
Ballkicking Guinness World Record: 1000 kicksLei vestita come si sente più a suo agio per affrontare la prova, ma comunque con mascherina e scalza.Schiavo completamente nudo(Eventuali schiave di supporto completamente nude o con solo slip)Mistress Gaia ha deciso di entrare di diritto nella storia del ballkicking realizzando un incredibile video, che la porterà ad ottenere un Guinness World Record.Le regole per vincere lambito premio sono le seguenti:- 1000 calci nelle palle- video senza interruzioni- può utilizzare qualsiasi tecnica purchè lo schiavo sia in piedi- potrà scegliere il metodo di conteggio che più le sarà congeniale, ma dovrà dare degli aggiornamenti regolari (numerici) sullo stato della prova- potrà parlare di qualsiasi cosa durante la prova e affrontarla alternando qualsiasi stato danimo (ironica, arrabbiata, amichevole, incazzata, etc)- se ne avesse bisogno potrà utilizzare delle schiave per sostenere/bloccare lo schiavo e fargli tenere aperte le gambe- può permettere allo schiavo di utilizzare del ghiaccio o altro per attenuare il dolore- può concedersi dei brevi momenti di pausaLei entra in scena, schiavo già pronto nella cock table e con seconda camera. La inquadra mentre si avvicina, quando è salita sulla tavola parte dal suo volto e scende giù lungo il suo corpo fino ai suoi piedi.Inizia a segarlo come al solito, poi si gira e lo sega mostrando la pianta del piede alla camera, poi si gira nuovamente e lo fa venire, continua spingendo forte con le dita sotto la cappella, utilizzi una ad una tutte le dita e poi gli sale in punta di piedi con tutto il peso sul cazzo sostenendosi con il trapezio.Quando pensa che è sufficiente lo fa alzare e inizia la sua impresa secondo le regole scritte in precedenza.Terminata la prova e conseguito il Record sarà così orgogliosa ed euforica dellimpresa che proverà a festeggiare regalando al suo schiavo un altro dolorosissimo footjob, scelga lei la tipologia, gli darà la seconda camera e inizierà a segarlo. Se lo schiavo non riesce a venire gli dirà: "Lo so, dopo 1000 calci nelle palle è difficile, ti faccio riprendere 5 minuti e poi torno" e riderà (altrimenti termina come segue)Torna e gli fa un footjob fino a farlo venire, poi preleva con i piedi lo sperma e lo mostra alla camera dello schiavo mentre dice tutto quello che le passa per la testa dopo una simile esperienza...
mp4 | 1920*1080 | 1,68 GB | 00:33:06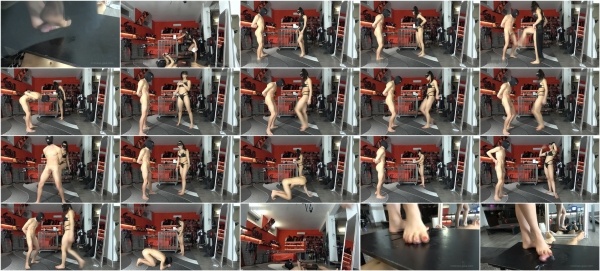 Download
Click on lock to get the link
Related news
Comments