ClubStiletto - Ms. Bijou - You Look Older Than Your Profile Pic - You're My Caged Boot Bitch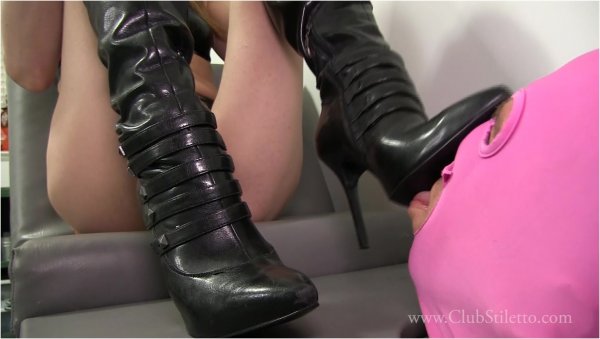 Ms. Bijou hollers into the cage where she now keeps her slave overnight.  In the 4th part of this series Bijou explains how she has now not only turned a rejected dating prospect into her slave but has him living with her full time, locked in a cage under her kitchen.  She pulls him out when she needs work done around the house or just wants to make him suffer for her enjoyment. 
In this scene she moves him from his big cage into a smaller cage where his head is exposed and he can now lick the boots clean that she wore to the club the night before.  "I had three or four men last night." she explains adding, "I fucked them all, and one of them I gave a blow job right on the floor."  Through all the craziness she kept her boots on and you can only imagine how nasty the soles are.  She orders him to suck the heel and lick the entire surface of the soles.  Bijou is actually impressed by the slaves sucking job and she says she may have him in the room when she has some of her boyfriends over, they might find a use for his skill.  "Or maybe you can just lay there and hear us fuck."  As she talks down to her slave her tight PVC panties ride up her crotch driving the old man crazy, the treasure beneath the fabric is something he will never experience.  He is now a full time slave and lucky to lick the filth from her boots!
mp4 | 1920*1080 | 374,42 MB | 00:05:06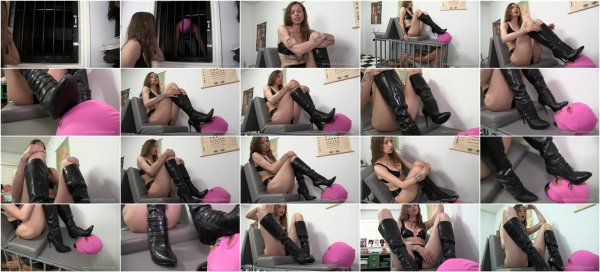 Download
Click on lock to get the link
Related news
Comments