Kates Palace - LADY KATHERINA - Mistress's new Whips Part 1-2
LADY KATHERINA has two new treasures in her repertoire. Whips! Black, elegant whips that fit ever so perfectly into her stern hand. You might think MISTRESS would waste no time beating out a catchy rhythm with her new Percussion Instruments on a willing slave who truly appreciates her musical accomplishment. But LADY KATHERINA has something far more sadistic in mind. She has lured a slave into her clutches, who has a strong aversion to flogging. The DOMINA has every intention of imposing her will on him and draws on a few friendly persuaders: electro-torture, nipple clamps and a little discriminating attention to the most sensitive of places are all it takes to help him learn to appreciate the finer things in life. LADY KATHERINA wants to bring him to the point where he looks forward to each sharp crack as the most fitting of all possible rewards. For this slave, however, it will be a long, painful journey before he gets there. Of course, getting there is half the fun.
File Name : 11___PoS_100916_Der_1
Format: MPEG-4
File Size : 492 MB
Duration: 00:21:10
Video: AVC, 1280 x 720, 25.000 FPS, 2999 kb/s
Audio: AAC, 2 channels, 241 kb/s
Download
----------------------------------------
After LADY KATHERINA has heard what SHE wants to hear, SHE decides to put him to the test. Is the object of HER devoted affection just telling HER those nice things in hope of escaping whatever next HER wicked fancy has in store? It's time for THE DOMINA to tantalize HER little plaything with some of HER sweeter music. For his listening pleasure, SHE wraps him snugly in plastic film, hangs him by his feet and treats him to HER latest Ode to Joy, an exquisite staccato of pain embellished with fanfares of blows, kicks and verbal humiliation. When the slave is completely spent and exhausted, SHE offers him an enticing glimmer of hope. Soon he will learn to truly love the whip, with which MISTRESS keeps such perfect time on his ass, while suspending his tender nipples on a short leash so that there will be no backsliding. He will soon be totally enamored of the rewards SHE shares so generously.as good an indication as any to TEACHER that his education has finally begun to take fruit.
File Name : 11___KatesPalaceMistresssnewHotFemdom
Format: MPEG-4
File Size : 646 MB
Duration: 00:27:50
Video: AVC, 1280 x 720, 25.000 FPS, 2999 kb/s
Audio: AAC LC, 2 channels, 239 kb/s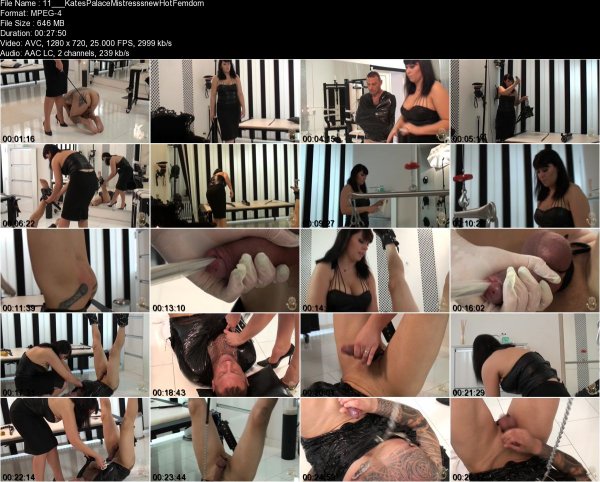 Download
Click on lock to get the link
Related news
Comments