AstroDomina, SLOANSMOANS, GISELE AMORE - OUTNUMBERED PART 4
Now that we've moved our slaves to a new location, it's time we tenderized the meat!
After a long drawn out car ride where Sydney's and Sloan's slaves were taunted, prodded and tormented, they're finally back at the safe house. Both of them are still bound, and leaning over some furniture. They've just been waiting there to find out what will happen next, and it turns out the two Dommes are definitely not done with them!
Sydney and Sloan both walk out wearing some giant strap-on dildos, and they're ready to have some real fun now before the slavers get here. The two slaves see what's going on and really start desperately yelping into their gags and struggling. However, this only seems to turn Sydney and Sloan on even more. Slowly, Sloan starts probing her slaves ass.. asking if he's ever had anything shoved in there before. She would love to know she was his first! He pleads with her not to but it's not like he has a choice. She slowly shoves her cock in his ass, as Goddess Sydney has her way with Gisele. The struggling and moans that come from these two is just music to their ears!
After giving them both a good taste of their strap-on cocks, they decide to switch slaves. After the first session now the two are positioned opposite each other again, with their asses now sticking out ready for round 2! Sydney and Sloan waste no time as they start fucking their slaves - it's so much fun for them to hear how much they whimper, and tell them they should probably get used to it as they're going to be sold as sex slaves and this is probably just the beginning. They just want to loosen them up before the sale!
mp4 | 1920*1080 | 854,92 MB | 00:14:35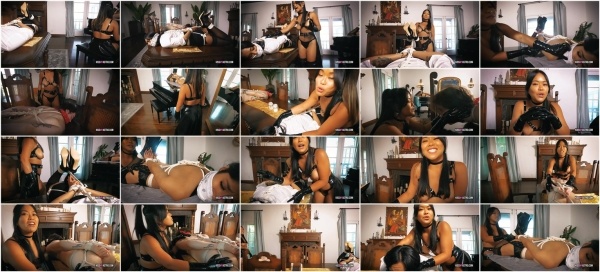 Download
Click on lock to get the link
Related news
Comments